10+ Best Flashlight Apps with No Ads for Your Smartphone
Clean up adverts with AdLock
Hello, dear readers! We welcome you to our blog.
Today we'll talk about the flashlight feature of your smartphone. A flashlight on a smartphone is useful for emergencies, personal safety, everyday tasks, photography, outdoor activities, accessibility, and entertainment purposes. Its versatility and accessibility make it a practical feature that can be beneficial in numerous situations, ensuring you're never left in the dark when you need light the most. While almost all phones have built-in software toggles for a flashlight, you might need peculiar functionality and that's where third-party apps come in clutch. The main issue with third-party software is the advertisement that can irritate even the most patient user.
Since you're here, we suppose you've had enough. So, are you tired of those annoying pop-up ads while trying to use a flashlight app on your smartphone? We've got you covered! In this article, we bring you the ultimate list of the best free flashlight apps with no ads. Please note, there are not a lot of decent applications that are completely ad-free. Some of them may have commercial content, but there's a way to get rid of them — AdLock.
Whether you need a reliable source of light during emergencies or simply want to explore exciting lighting modes, these ad-free flashlight apps will revolutionize your mobile lighting experience. Get ready to shine bright without distractions as we unveil the top flashlight apps designed to keep the darkness at bay, minus the advertisements.
Top 10 Flashlight Apps with No Ads for Android
Price: Free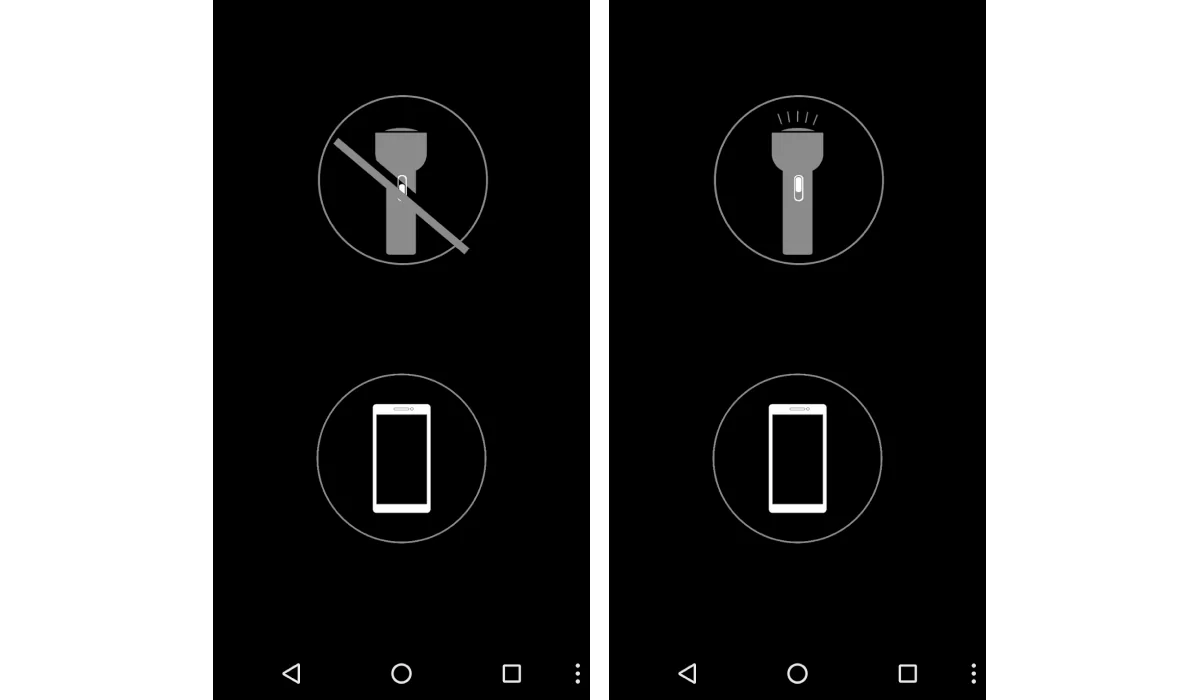 Opening the list comes one of the easiest and most convenient flashlight applications out there. The main advantage of this piece of software is that it's completely ad-free. On top of that, as it's mentioned in the name, this app does not ask you for any permissions (except for the camera, which is obvious). We, as a team of cybersecurity experts, approve this approach since we value data privacy.
Simple, easy-to-use app — choose if you don't need anything extra from the flashlight application. Easily the best flashlight app without ads available on the market.
Price: Free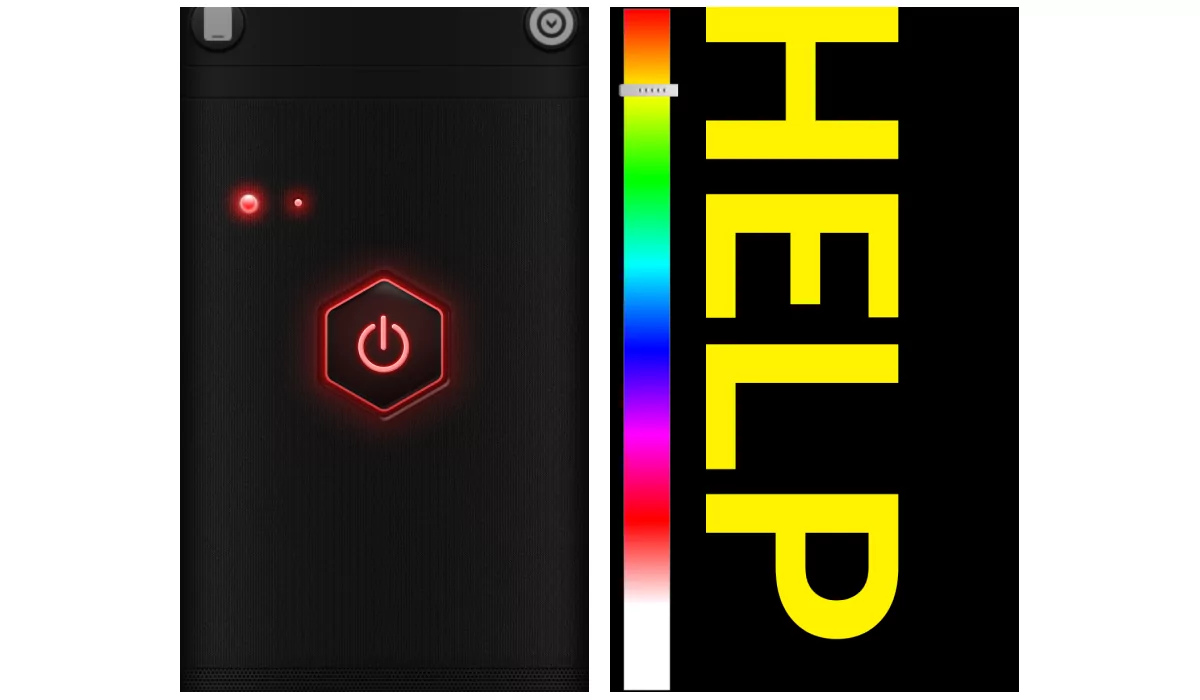 This app has garnered a significant number of downloads, indicating its popularity and effectiveness. Unlike other flashlight apps that solely utilize the camera's LED flash, this app offers an additional feature. It allows users to take control of their phone's screen and maximize its brightness. Moreover, users have the freedom to customize the color and intensity of the screen, providing a fine-grained level of control. And yes, there's more. This app offers cool features like a flashing strobe screen and a video clip simulating a burning candle. With minimal permissions required (only camera and Internet), this versatile app caters to specific lighting requirements. For instance, users can adjust it to emit a warm, low-intensity color ideal for reading.
But what about ads? This application is free to use but it does have commercials varying from money-generating promotions to promos of other products by developers of the application. If you are using Color Flashlight and want to remove adverts from it, then you should use AdLock. It will clean up the clutter and let you enjoy using the app without the annoying sounds of ads.
Price: Free, offers in-app purchases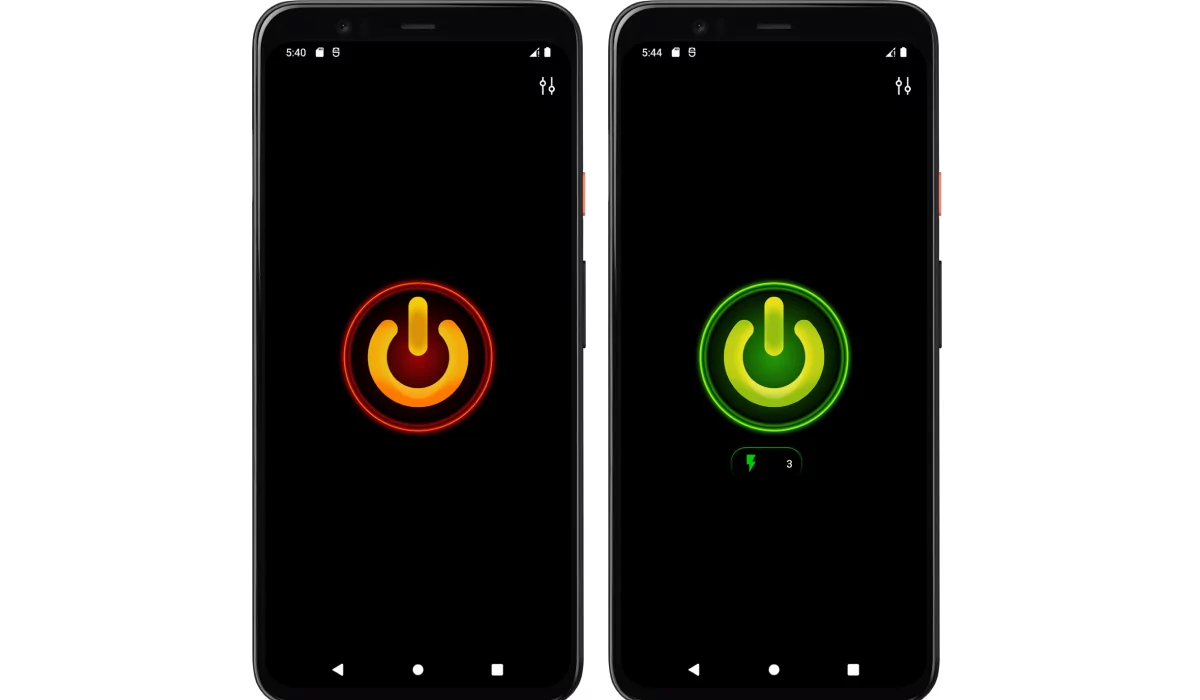 Introducing Flashlight Classic, a straightforward and efficient flashlight app designed to provide illumination when you need it most. This app operates in a manner similar to many others in its category. You have the option to utilize either your phone screen or the LED flash for a reliable source of light. With no unnecessary frills, it keeps things simple and focuses on delivering the core functionality you require. Additionally, Flashlight Classic has several useful features such as a timer, ensuring you have control over the duration of your light usage. While there is some annoying advertising, it doesn't really interfere with the app's overall functionality. But you still can block ads with AdLock. Just saying. Flashlight Classic is completely free and doesn't require any unnecessary permissions, prioritizing your privacy and user experience.
Price: Free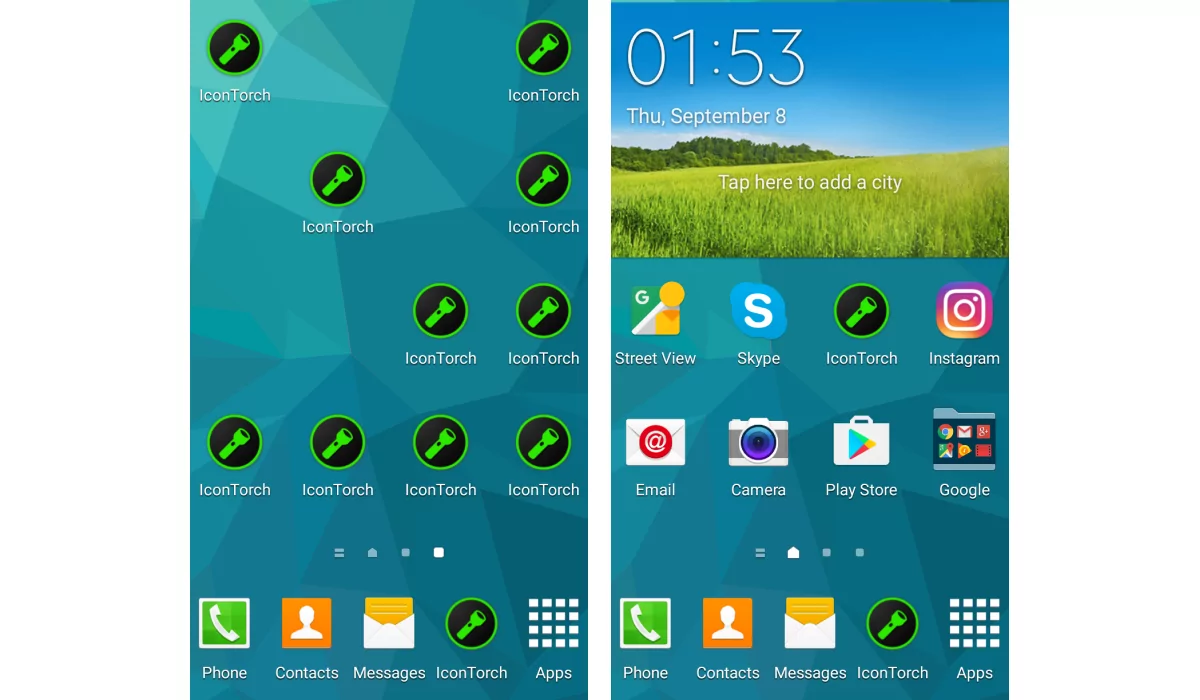 This one is quite a peculiar application. Icon Torch has no interface. It's an icon, literally. This icon turns your LED flash on and off. No settings, no adjustments, no nothing. Of course, it doesn't offer any of the advanced features like previous apps but it also means it has no ads at all. A super basic android flashlight without ads.
Price: Free/$2.99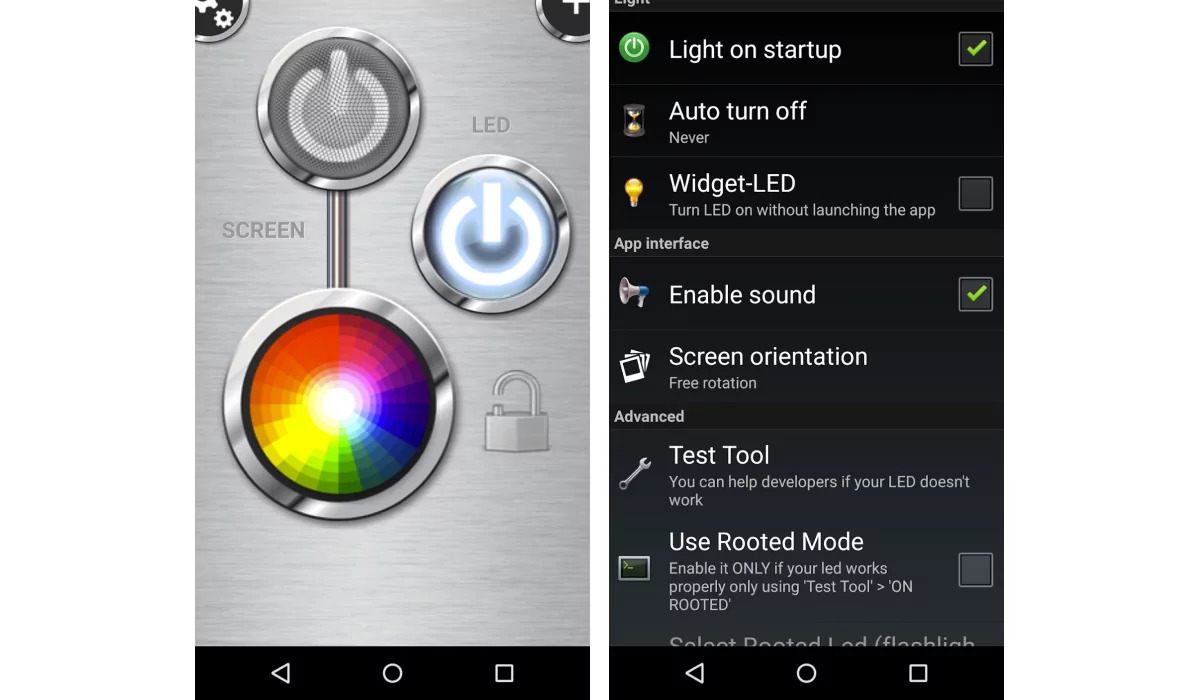 Flashlight HD is a trusted and established flashlight app that brings forth a wealth of features. Designed with versatility in mind, it utilizes both the screen and the LED light at the back of your phone to provide ample illumination. To further enhance user convenience, the app includes handy home screen widgets, allowing you to access the flashlight with ease. It also offers a range of colors on the screen, enabling you to customize your lighting experience. With its simple design, Flashlight HD ensures a seamless and intuitive user interface. While the app is free to use and supported by advertising, an ad-free experience can be unlocked with the optional $2.99 pro version (or by having a reliable adblocker on your smartphone). Flashlight HD stands as a reliable and feature-rich flashlight app, ready to illuminate your path whenever you need it.
Price: Free
Torch uses both the LED flash and the screen of your phone. Topping up its user-friendliness and convenience, it has several useful features like a dark mode and a home screen widget. No ads, no additional permissions — this app is a gem, one of the best free flashlight apps with no ads.
Price: Free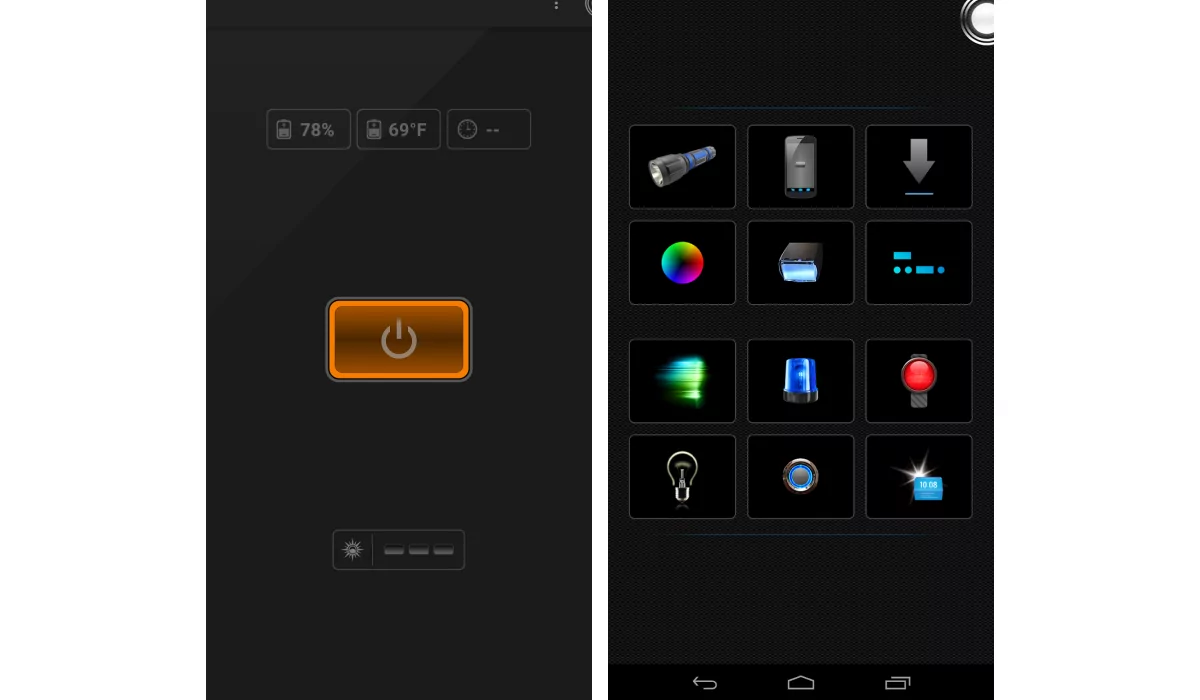 This application is quite popular — it has over 100M downloads. Tiny Flashlight is a lightweight and convenient app that offers extra features (some of them require additional plugins). These plugins are free and include strobe, morse, blinking lights, etc.
It does have ads. Ads are not that bad but they definitely can annoy the heck out of you in the most uncomfortable moment. We suggest you block them using a reliable adblocker app — AdLock.
Price: Free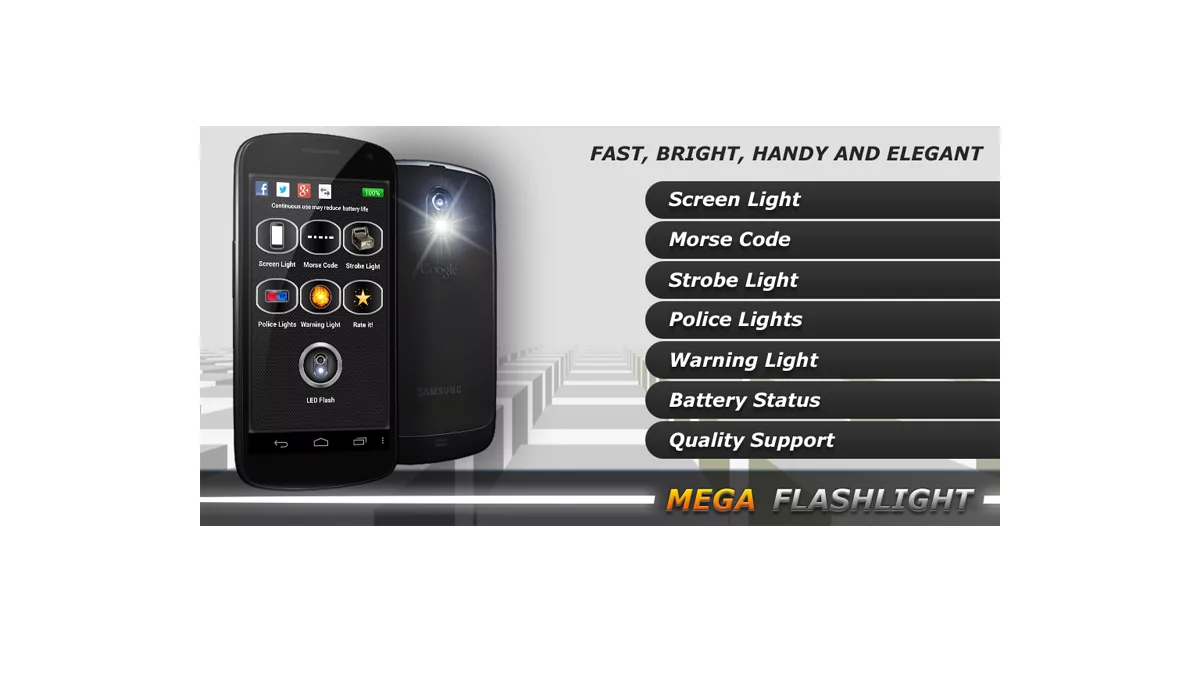 This application is similar to some of the other representatives from our list. It's easy to use, convenient, and free. It includes a strobe light with adjustable modes — patterns include SOS, Morse, etc. You can watch the applications showcase via this link.
Flashlight by Ruddy Rooster has commercials and no premium subscription. So, if you want to use this app without ads, stick with AdLock.
Price: Free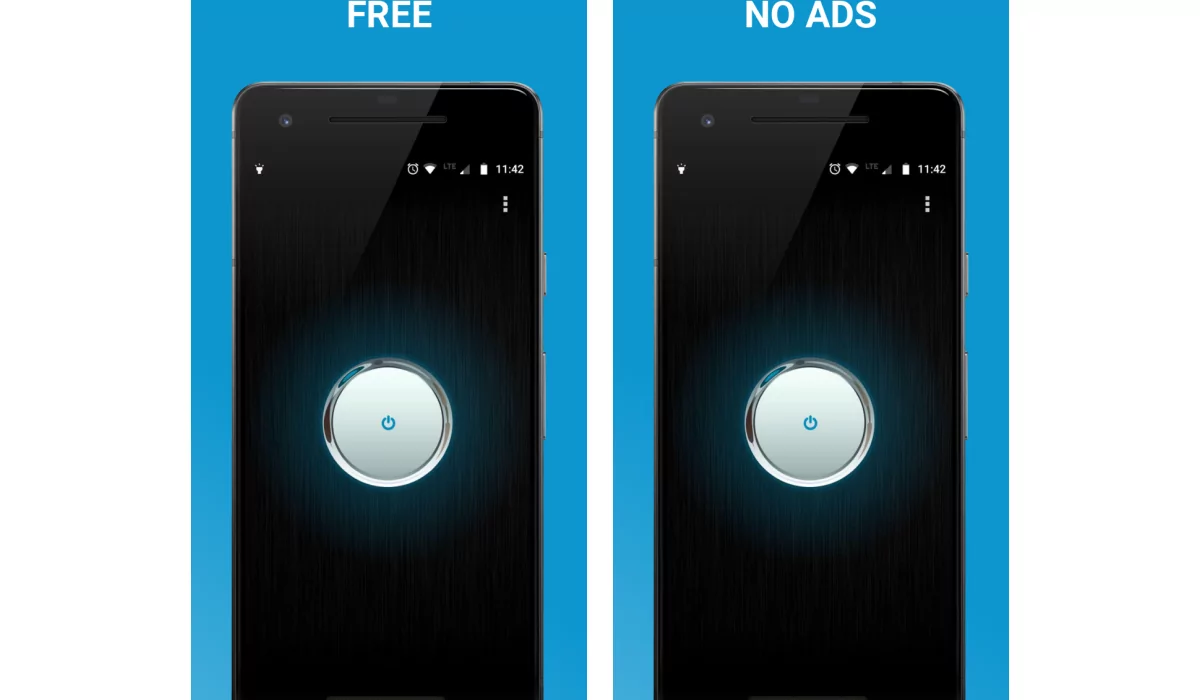 Ninth on our list is the application with a straightforward name — Flashlight ( by Light Apps Studio). Another example of a simple and convenient app without bells and whistles. But hang on, this representative of the ad-free flashlight apps has a pair or two handy features, which are a home screen widget, gesture support, and a cool double shake on/off function. The app doesn't have ads (at least for now) and is free to use. So, if you need nothing more from a flashlight application, consider this one as it's a decent flashlight app for android with no ads whatsoever.
Price: Free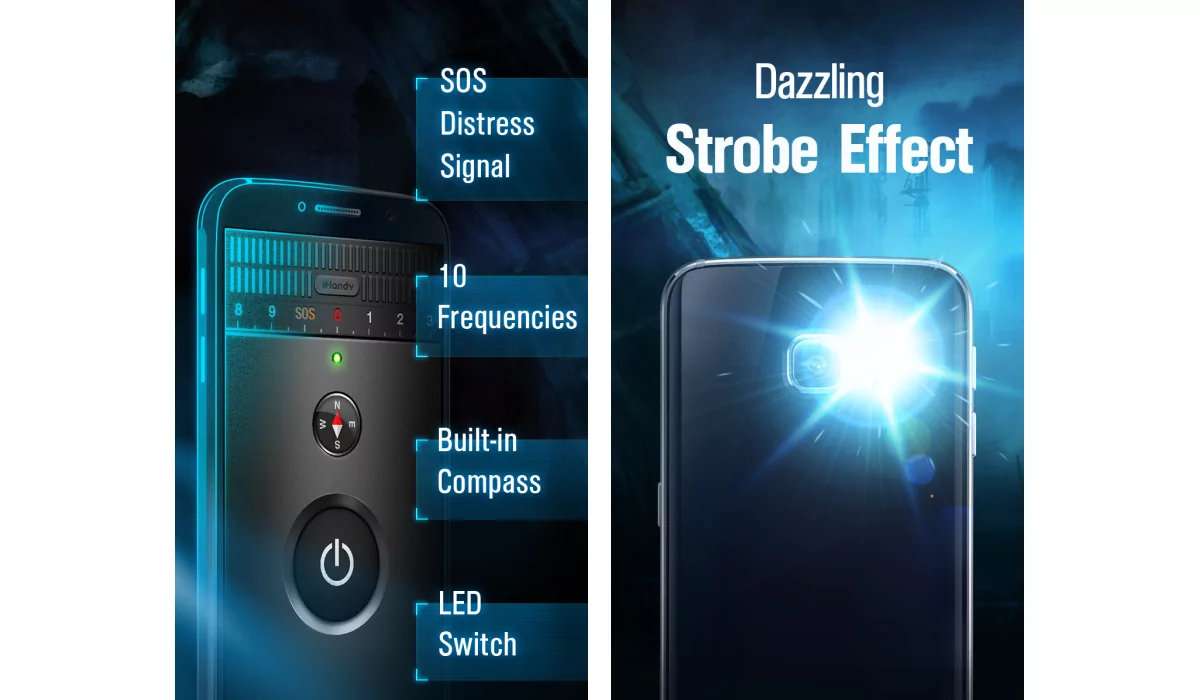 Closing the list of the best free android flashlight without ads list comes the High-Powered Flashlight. We should say right away that this application has ads since it's free to use. With over 10M downloads, this application has a pretty good rating and positive reviews.
So why is it good? Intuitive and user-friendly design, has a couple of useful features like a compass, SOS pattern, and 10 frequencies for you to choose the most suitable. It is free but has ads. Users report that commercials don't really ruin their experience when it's least expected but ads are ads. If you want to use this one without ads — get yourself an adblocker.
What About Flashlight Apps for iPhone?
It would be surprising if Apple smartphones wouldn't have any. Same as Android devices, iPhones have a native flashlight feature but then again it may include not all you would want it to. One of the best third-party flashlight applications for your iPhone (that is free to use and ad-free) is FlashLight LED HD. It's not the only one regarding the free-to-use model, just to mention several:
Some of the apps are ad-supported and it's no wonder. Generally, commercials here are not too brutal although one will find it annoying.
How to Get Rid of Annoying Ads on Flashlight Apps?
As you might already know after considering our picks for Android apps, decent adblocking software can help you sort out the problem of nagging adverts. Why is AdLock the best one when it comes to adblocking?
AdLock is a full-fledged standalone ad blocker app;
It works systemwide on your device — AdLock blocks all sorts of known ads on all your browsers, games, and other apps infamous for annoying commercial content;
Our blocker protects your device from malicious scripts, redirects, bugs;
AdLock provides top-notch privacy protection — it's developed by cybersecurity experts;
AdLock does not collect/transfer/sell any of your data and does not ask for shady permissions;
It's available for all popular operating systems and devices;
AdLock's filtering methods and algorithms are regularly updated to outplay newer ways of ad delivery.
That's it in short. Being extremely easy to use, our ad blocker provides all the necessary tools for you to fine-tune its blocking performance including a possibility to add your custom rules.
Final Words
There you have it. To be fair, there are other flashlight apps that have in-app purchases, paid subscriptions, and whatnot. If none of the applications above suit you, feel free to browse similar apps on Google Play or App Store. Please note, we are not promoting any of the flashlight apps without ads on partnered/sponsored terms, this article is written to ease your searching struggle. And remember, your experience will improve gradually with a reliable adblocker. Get yourself AdLock and enjoy smooth and interrupted interaction with your favorite applications. "Free flashlight app no ads" is real.
Frequently Asked Questions
Are flashlight apps with no ads safe?
Flashlight app without ads can generally be considered safer than those with ads, but it's important to exercise caution and choose a reputable app from a trusted source. Here are a few points to consider: source developer, permissions, user reviews and ratings, privacy policy, updates and maintenance.
How to choose the best flashlight app?
When choosing the best flashlight app for you, consider these factors: reputable source (development company), high ratings and positive reviews, features and functionality (choose the one that meets your needs), minimal permissions, regular updates/maintenance, and an ad-free/adblock option. By considering these factors, you can choose a reliable flashlight app that suits your needs and provides a safe and convenient flashlight experience on your device.
Can flashlight apps with no ads harm your phone?
Flashlight apps with no ads generally do not pose direct harm to your phone. However, it's important to choose a flashlight app from a reputable source. By searching for "android flashlight no ads" and picking the first random one (from a noname dev with no other products) you may get in trouble.
My adblocker doesn't remove ads from the flashlight app, what should I do?
First of all, there are ads that come embedded into the application by the developers. Generally, these commercials promote other products by the company and are not very intrusive. There's no possibility to block such ads (at least now). Second, there might be a problem with your adblocker — you either need to restart/update it or find another one.
Clean up adverts with AdLock
Do you like this post? Share it!