Top 10 NFL Live Streaming Sites to Watch For Free
Watching your favorite sporting events has become even more convenient since cable TV is no longer needed. Cord-cutting fans have a number of options for watching games each week — live streaming platforms are a godsend.
Just like NBA or NHL, National Football League steadily expands its streaming offerings. On top of quite a list of available streaming services, NFL has launched its own exclusive one, NFL+. Of course, it provides a row of viewing options and convenient features that would satisfy any football fan wishing to watch their favorite team clutch on the pitch. And of course, NFL+ is a paid service with its prices starting at a $5 per month tag for a standard subscription and $10 for a premium.
But what about tuning in for free? Sure thing there are a lot of free streaming services to watch NFL games, and there's a handful of actually good ones. The major problem with free streaming platforms is that they all are cluttered with diverse ads — from banners to dumb unskippable video ads messing up your good time.
Luckily, there's an honest solution that would relieve stress and let you enjoy NFL clutches for free with no ads. We're talking about AdLock, the best adblocker on the market. But, first things first, let us consider what options for viewing NFL are out there. Let's go!
You Can Always Watch NFL Online On Official Services
Starting with, it would be logical to name the official NFL streaming services. They come only via a paid subscription which may be pretty expensive but provide an unrivaled quality of video and a bunch of features for dedicated football enthusiasts.
Opening the list comes in the NFL+ mentioned earlier. The main reason for this is that it's an official NFL streaming platform dedicated solely to football. A full-season commitment via a standard plan there will cost you 40 bucks, while the premium one — $80.
NFL plus does have a free trial — a 7-days period when you can try it out and get to know whether it suits you or not. Although NFL Plus can stream live games, it's only available on users' phones and tablets. No TV or laptop, regretfully. If you need more specific info regarding the peculiarities of this streaming service, go ahead and check them on their official website.
As was already mentioned, NFL has its own application which provides a set of features including watching live games, recent news, schedules, articles, and more. The application is free and some of its features are as well, but if you want to watch live playoffs or regular season games — be ready to subscribe.
Peacock is another neat streaming service we've already reviewed in one of our articles. We think you may find it interesting whether it's possible to block ads on Peacock. Peacock streaming service offers a bunch of thematic channels and live streams not limited to sports. Its Premium plan will also cost you $5 dollars per month. Luckily, Peacock is available on a variety of devices and is not limited or restricted to phones/tablets. And yeah, Peacock has no trial.
All subscribers, regardless of which Paramount+ sub tier they have, can watch NFL games. Welp, you can stream the same games that are on your local CBS station, not just anything you want. Yeah, it's 100% not the best option but is definitely better than nothing.
Disney Plus, which also comes with Hulu and ESPN+ at no extra spend, is one of the best ways to watch NFL games. If you want to stream football games via Disney+, you should subscribe to the Disney Bundle for $14 per month.
Football fans can watch NFL games on CBS, ESPN, Fox, and NBC which are all available on YouTubeTV. Of course, it's not for free, but the range offered by YT is pretty impressive. There are NFL games that are shown on Amazon Prime Video (unaccessible through YouTubeTV). In addition to all the sporting stuff, YouTubeTV includes a range of national news networks, entertainment and lifestyle channels, etc. Sounds good, right? YouTubeTV will cost you $65 per month. Not good anymore? Right.
Sling TV is also good for watching NFL and other sporting events. It comes in two subscription tiers — Sling Blue and Sling Orange. Blue includes the NFL Network, Orange offers ESPN. On top of that, you can add the Sports Extra pack for an additional cost to get NFL RedZone. Both plans cost $18 bucks per month roughly.
ESPN Plus has always offered live streams of sporting events — NHL, MLB, college football, etc. The easiest way to sign up to ESPN+ and watch NFL is to subscribe for it as a standalone service. It will cost you 10 dollars per month. You can also get it by buying a bundle of services.
Read also: How to block ads on ESPN app
FuboTV covers a good number of days and channels, including sports — CBS, Fox, NFL RedZone, NBC, ESPN, etc. Please note that it covers regional events, so for example, ESPN may be unavailable in your region. FuboTV is an expensive service with its price hitting $65 per month.
Although there are fairly cheap options on this list, it's important to keep in mind that these cheap services force ads. Yep, you pay to watch ads.
What About Free NFL Streaming Sites Online?
We bet you've considered free online streaming sites and even tried some of them. There's a common thing for all free streaming websites on the Internet — advertisement. And while it's understandable that it is a way of monetizing efforts, some of those websites go above and beyond. We know the pain of making your way to watching your favorite team through dozens of fishy redirects, banners, annoying autoplay video ads, and a dozen of other things that may even steal your data.
Fortunately, there's a workaround and that's why we are here. All you need to start enjoying the Internet in its pure form is AdLock. We're talking about the top-tier adblocker and privacy protector here. You can't even imagine how enjoyable can the web be. Have we caught your attention? Good.
How Can I Watch NFL Streaming Without Ads With Adlock
AdLock is the best adblocker on the market. Being built to work systemwide, our standalone application is designed to seamlessly operate within your device, covering all browsers and apps that bombard you with annoying commercial stuff. AdLock not only blocks all types of ads but provides reliable privacy protection — no trackers, malicious scripts, or harmful requests can breach your system. Moreover, our adblocker does not collect any data at all.
AdLock is available for any device you have, whether it's an Android smartphone/tablet, iOS, macOS, or Windows. All you need to start watching nfl streaming sites without ads is to get AdLock:
Go to the "Products" tab on our official website;
Choose the operating system you need AdLock for;
Download the installer and launch it;
Follow the instructions;
Set up the app;
Enjoy nfl without ads!
Fond of basketball? Nice! Did you know that you can watch NBA online for free and without ads?
10 Best Websites to Watch NFL Streams For Free
So, here we've comprised a list of the best free nfl streaming sites that are safe to use and offer good quality. Let's get it started.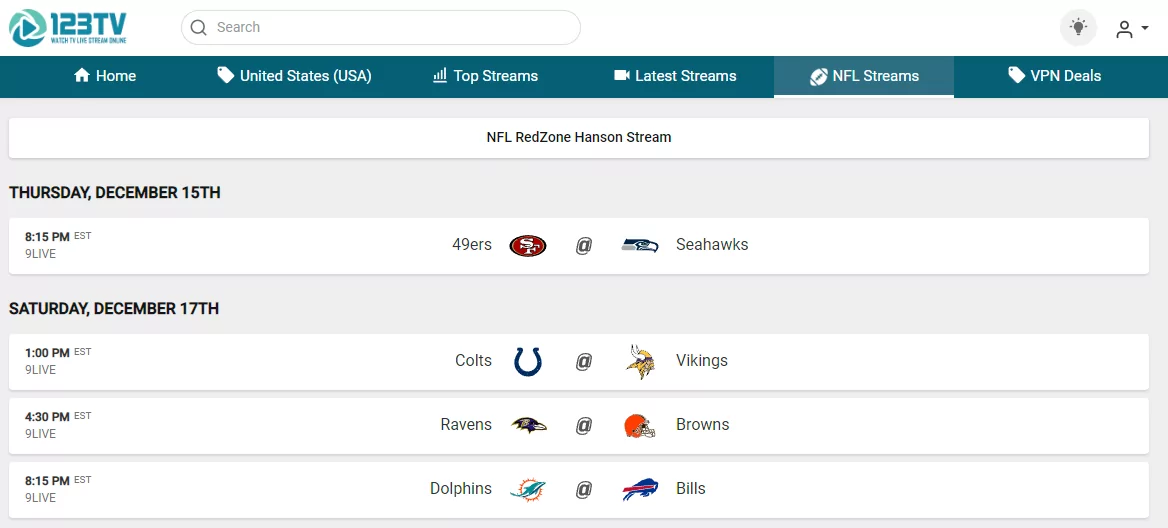 This service is a well-known free nfl live streaming source of football entertainment among NFL fans. This streaming service provides an entire page of free NFL streams to choose from. Clean and tidy, easy to use, this website is what a football enthusiast wants to see. It provides access to ESPN, NBC Sports, CBS, Fox, NFL Network streams without any detours or mambo-jumbo — open the website, choose the game, and voila! In addition, 123TV hosts a bunch of other channels including Disney and HBO.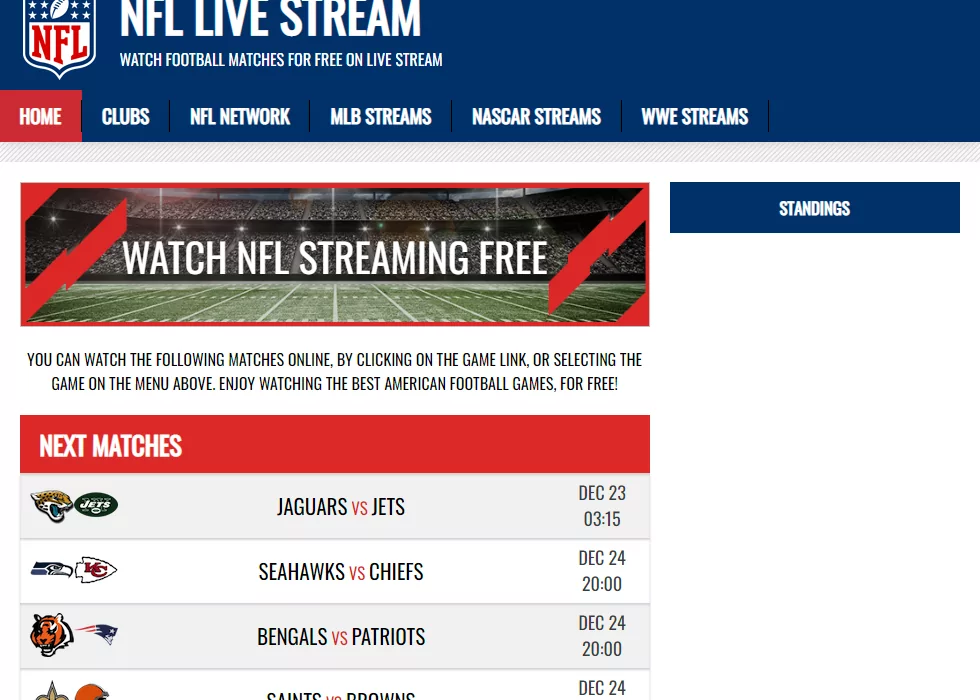 What an eloquent name it has, doesn't it? Just like it implies, StreamNFL is a home for the entire NFL season. Being dedicated to the National Football League, this streaming website is a well-organized platform where fans can find, sort, and filter games by clubs. What's even cooler about it is that it doesn't require signing up or installing third-party players and whatnot. Quite a find for a football enjoyer, totally recommended.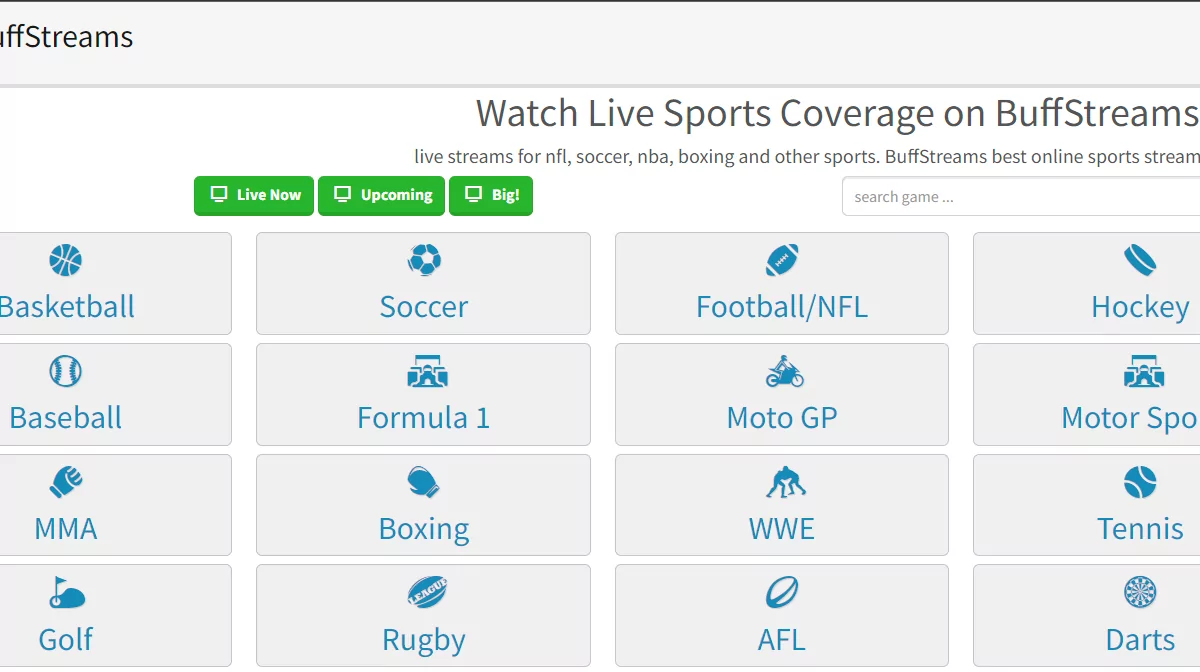 If you enjoy other sports besides football, then this website is 1000% for you. Buffstreams is a straightforward and easy-to-use streaming platform offering a wide range of sports. Here you can find basketball, soccer, moto GP, American football, tennis, golf, and much more. A well-organized interface would be easy and intuitive even for a toddler. You may watch standard definition streams on the website right off the bat, but if you want HD entertainment, then you'll have to sign up.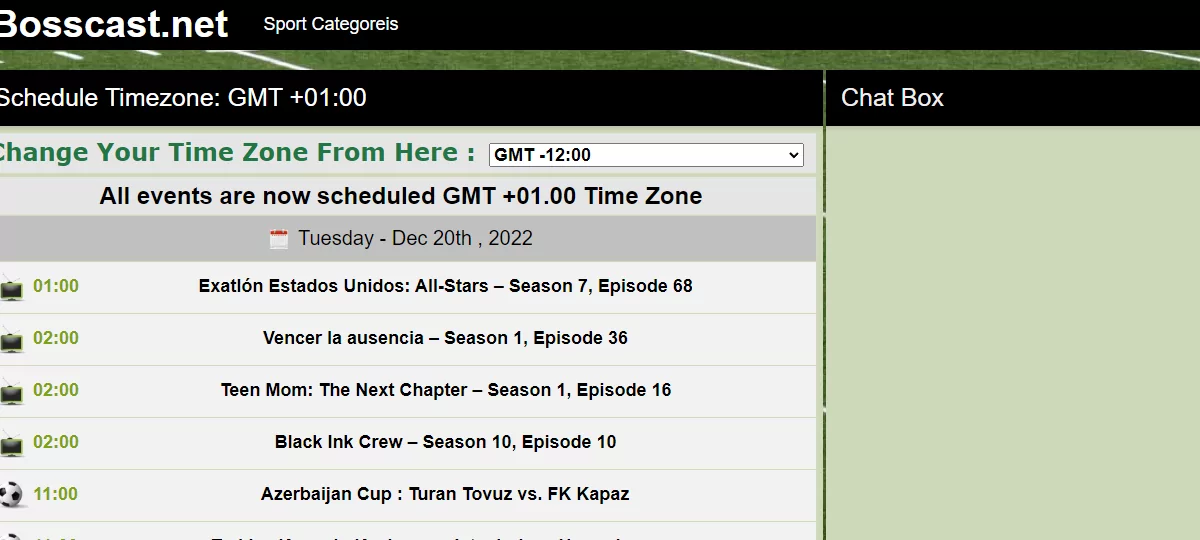 This one is a solid choice for those searching for total access to NFL games. It gives access to ESPN, NFL Network, and NFL RedZone within a reach of a click. These channels cover the majority of games and events happening in football, so you will only have to figure out the channel your team is playing on. Moreover, BossCast covers NBA and NHL, so you may also watch nice three-pointers and flying donuts 🙂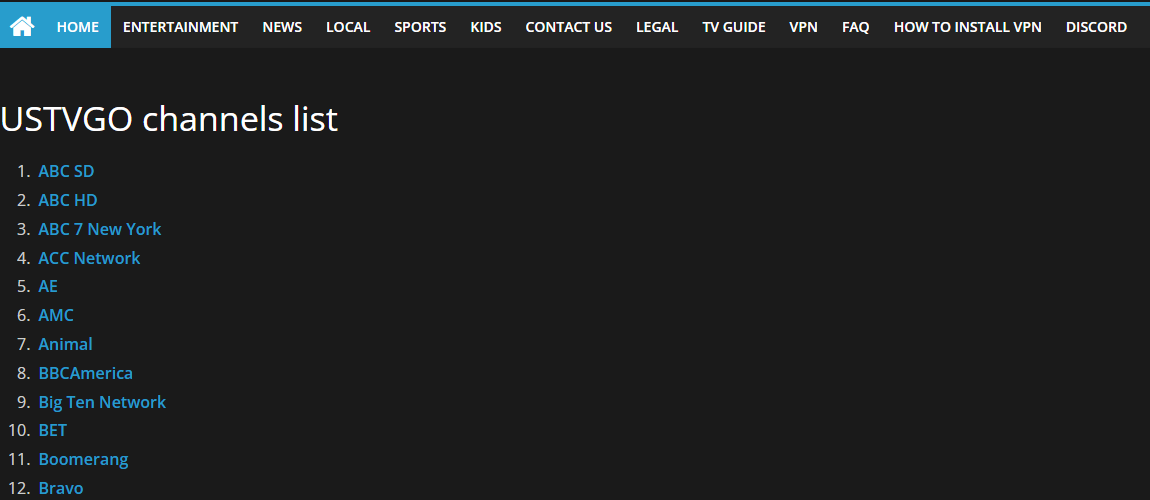 Another very convenient and user-friendly website to watch live streams of sports and TV. It hosts almost 100 channels of American TV including NBA, NCAA, SEC, and NFL streaming channels. The downside of this website is that if you want to watch live streams you have to have a VPN. Given that a VPN is a common thing on any user's device, this shouldn't be a problem. But yeah, a little inconvenience in a form of an extra step.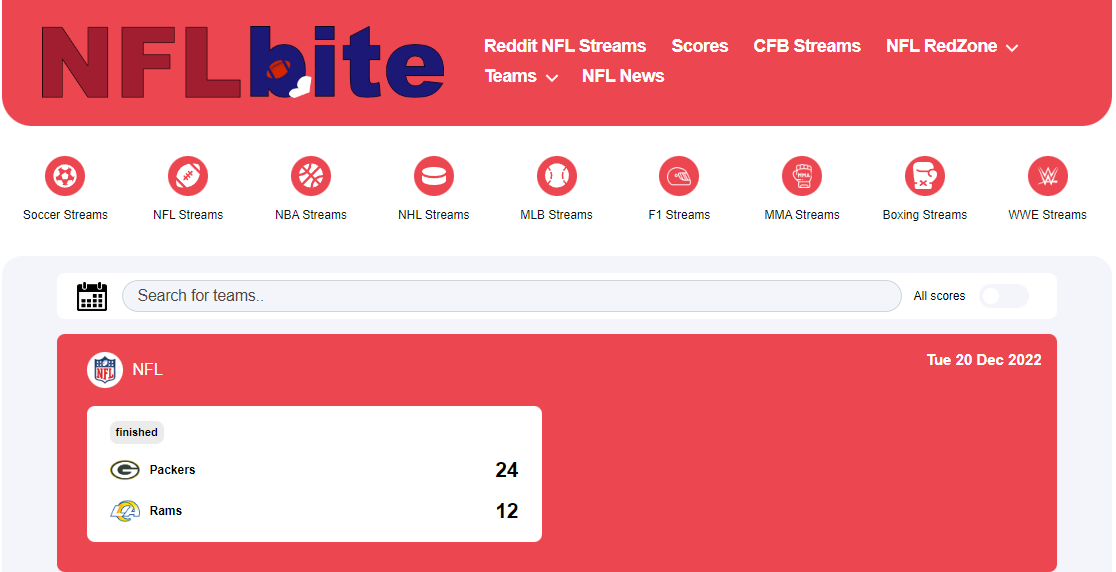 This one is created by the r/NFLStreams subreddit founders. NFLBites is a convenient website allocating tables of reliable streams from users all over the world. Streamers hosting their broadcasts are carefully selected to be safe, and the homepage is secure. Give it a shot!

It's a hot ticket for all football fans. It provides access to standard-definition streams of matches for free and without a need for registration. Otherwise, if you want to watch HD, you'll have to sign up. Note that the website doesn't host the content and you'll be redirected to other websites.

NFL games here are available after creating a free account. It lets viewers watch nfl through links on the website. Just like NFLBites, this platform carefully filters streamers to keep reliability and security. Apart from football, users also get access to baseball, boxing, soccer, etc.

Nope, it's not only about cricket. CricFree offers plenty of sports streams from rugby to moto GP. Although it might look old-fashioned and even outdated, it's not about pleasing eyes with the interface. Like some of the services above, this one doesn't host content, it redirects to other websites which may be geo-blocked in your region. To solve this inconvenient situation, enable a VPN.
This website offers access to soccer, American football, rugby, and cricket live streams. Easy to use and navigate, Live Soccer TV is a decent choice for football enthusiasts. Not the best nfl live stream free of charge, but still a good one for sure.
Bonus: Most Interesting Upcoming NFL Games to Watch On The Season 2022
While the season is ending, we've got a pair or two of hyped clutches. Let's see the highly anticipated games that would pull this year's curtain down.
Week 15: Patriots at Raiders
December 18, 8:20 p.m., NBC
Week 17 — Rams at Chargers
Sunday, Jan. 1, 6:20 p.m., NBC
Week 18 — Ravens at Bengals
Sunday, Jan. 8, Time/Network TBA
Final Thoughts
Official streaming services are oftentimes overpriced for a football fan to pay up to 65 dollars per month and watch on weekends. Luckily, you can watch nfl online free of charge and, with AdLock on board, without ads. Now you've got an insight into how to watch nfl for free and a whole list of streaming services to choose from. We're sure these won't go from the internet in the upcoming season as well so bookmark them for the future and don't forget to get yourself AdLock.
Frequently Asked Questions
Is watching free NFL streaming websites legal?
Nope, it's not legal if the streamer has no license. If the stream is by the official provider, then it's fine.
On what app can I watch NFL games for free?
Previously, it was possible through the NFL app, but nowadays it's paid. The NFL is charging a monthly fee to stream games via an application.
Can I watch NFL on Fox for free?
No. The app itself is free to download but you have to pay a subscription fee. Well, if a free trial counts, then yes but for a short period.
Can you watch NFL on YouTube?
You can watch NFL games on YouTubeTV, which is mentioned in our article. It's one of the best streaming services regarding quality, but the price tag is somewhat high. If you're ready to pay $65 per month, then go ahead 🙂 From time to time, YouTube hosts national channels broadcasting big sporting events and such streams are free in the majority of cases. The revenue in this case comes from ads, and here's how to block youtube ads on Android.
Ad-free Season Starts Now!
Do you like this post? Share it!
Do you like this post? Share it!