Top 7 Tetris Apps Without Ads for Android & iOS
Almost all great things are created by chance. Tetris is one of those things that arose from chance, almost like the Universe, yes. A simple logic puzzle, written in 1985 by an employee of the Computing Center in the USSR Alexey Pajitnov, is celebrating its 39th birthday this year. Alexey, inspired by a puzzle called "pentamino" wanted to create something alike for his colleagues and himself to brighten up leisure.
I invented Tetris for my own pleasure. This is the only way to invent something.

Alexey Pajitnov
Tetris laid down the golden rule: the simpler and clearer the game's mechanics are, the higher the chance that it will conquer the market and sell like hotcakes. So it happened and is relevant so far.
The puzzle that thundered all over the world, the game, whose history consisted of a series of scandals, intrigues, and trials, entirely deserves getting its Hollywood blockbuster. Tetris is not just a game — it is, in essence, a whole cultural phenomenon that has become a symbol of childhood for several generations.
Over the years, Tetris has undergone enhancements and modifications, newer graphics made it look really cool and engaging, but the "mechanics" behind it remained almost unchanged. People all over the world play tetris games and there's quite a bunch of them. Some of them are free, others are paid, some include ads, and others don't. And while some of the ads are not that annoying, there are fullscreen video adverts that can make users go insane. Not only do they disrupt the gaming experience but can also bring potential risks to the security of your device.
In this article, we're considering the most popular tetris applications both on Android and iOS. You'll find a list containing tetris apps with ads and without them to choose from. If you're an AdLock enjoyer, you 100% know that you can use your favorite apps and play games without ads. If you're not one, we'll tell you how it's done. Let's go!
7 Best Tetris Apps No Ads for iPhone & Android
So, here's a list of the best free tetris apps that can bring the pure joy of stacking blocks and achieving new high scores. Whether you're a seasoned Tetris pro or a casual gamer looking for some addictive fun, these 7 best tetris apps are here to deliver a seamless and immersive gaming experience on your mobile device.
Tetris®
Free, Contains ads, In-app purchases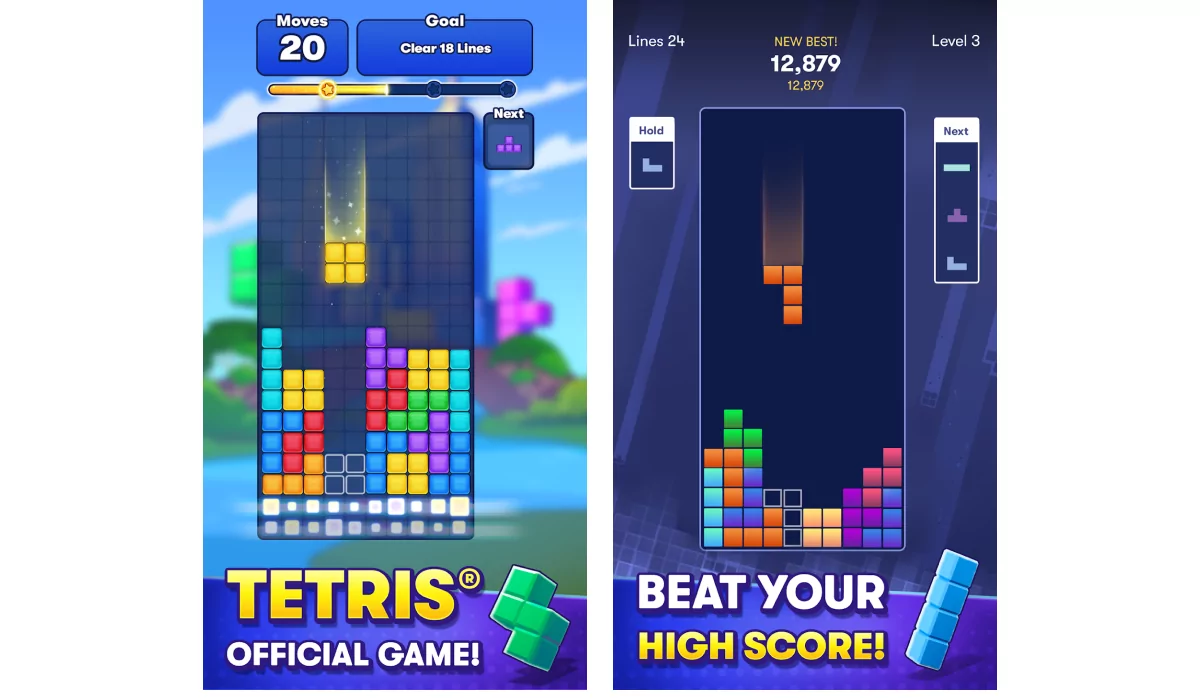 Opening the list comes the application called Tetris®. It's a free game available for both iOS and Android via the official stores (links below the heading). It provides gamers with hundreds of levels to complete with, of course, increasing complexity. Reportedly, the application has quite a few ads. Some of the adverts mess up the in-game audio and even crash the application. For roughly $20 a year, you can activate the "Premium" version of the application which is ad-free. Is it a fair price? Press "X" to doubt. And while the game itself is decent if you're searching for an app to kill some time, it's hella annoying if you're a serious tetris gamer. Just to mention, AdLock would block all unwanted ads on Tetris® without a need for extra spending.
Kubik (3D Tetris)
Free, Contains ads, In-app purchases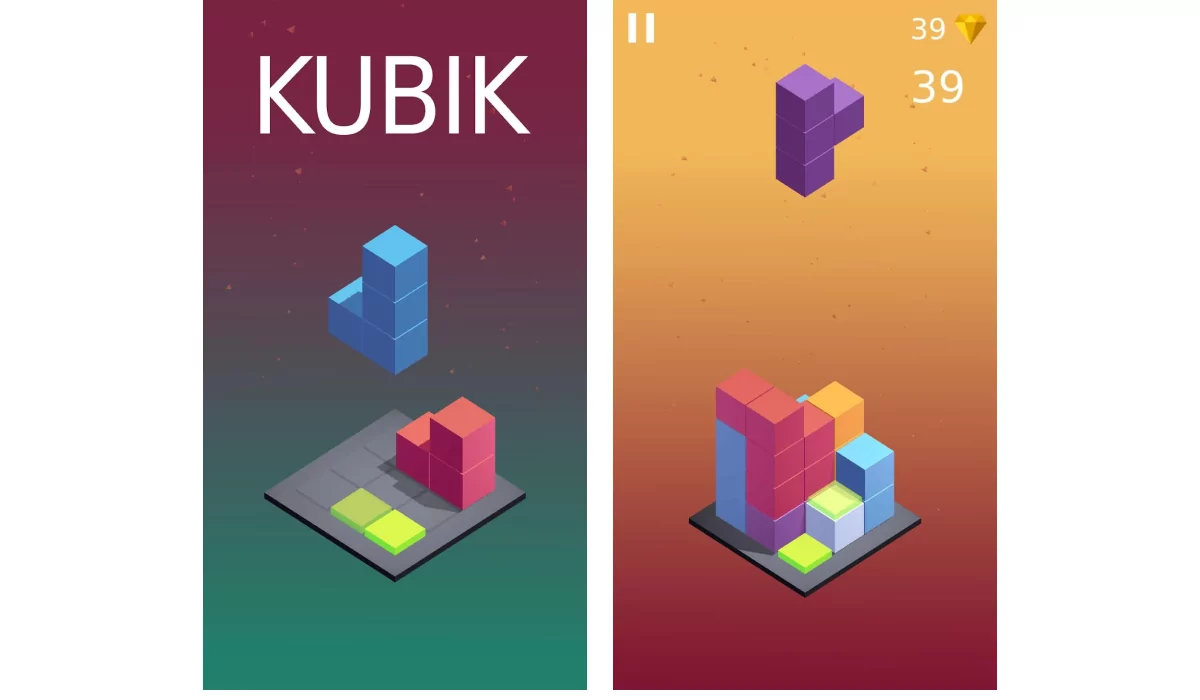 Second on our list is the game that is not a classic tetris. Kubik is a pretty fun and challenging 3D puzzle that has nice visuals and color schemes. To be fair, Ketchapp did a great job implementing this concept of a tetris-like puzzle. Although users say the application is not perfect in terms of gameplay, it has lots of fans all over the world. Kubik is one of the best free tetris apps on the market taking to account that the commercials are not very frequent. If you're searching for unusual games like tetris for iPhone and Android, you should give this one a shot for sure.
Block Puzzle
Free, Contains ads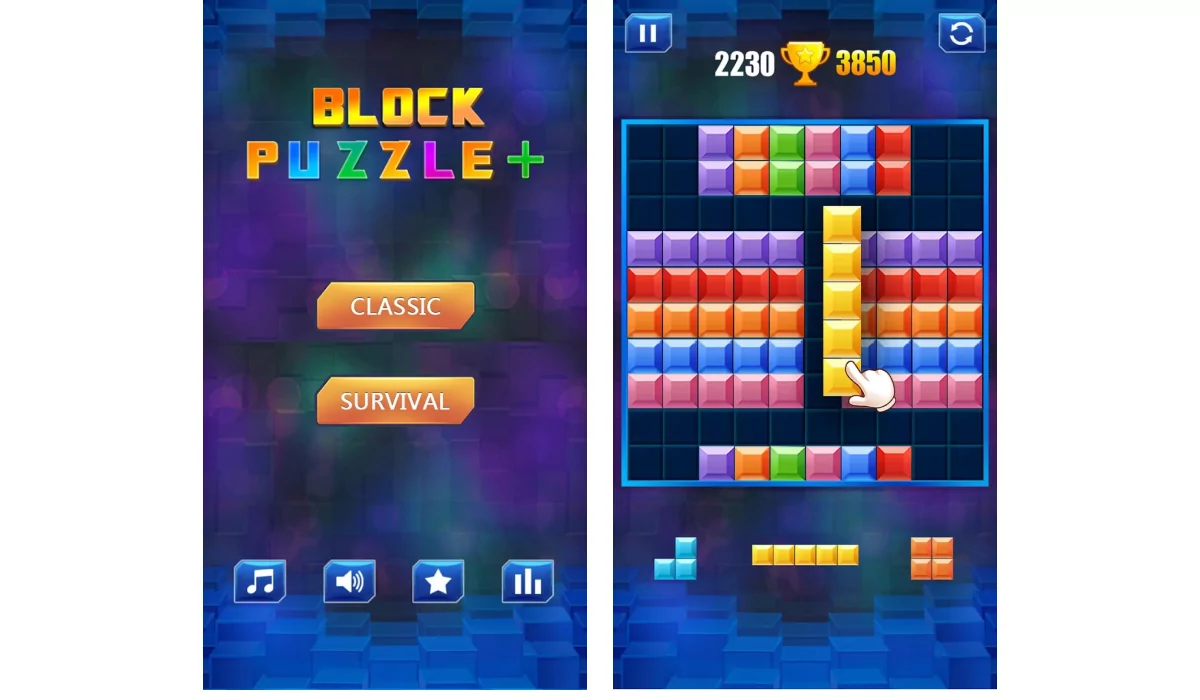 Next up, the Block Puzzle app. This one is the classic block puzzle tetris — no more, no less. With a simple and intuitive interface and hundreds of levels to beat, this application provides all you need as a tetris enjoyer.
The ads in this app roll in only at the end of the round and are not repetitive. Some of the users suggest turning the flight mode on to avoid ads if you find them annoying but why would you mess with the flight mode when you can get AdLock?
This item on our list is probably the best tetris app for you to enjoy the classic block game. It's easy to spend hours beating records and trying new strategies on this puzzle, so be careful.
99 Bricks Wizard Academy
Free, Contains ads, In-app purchases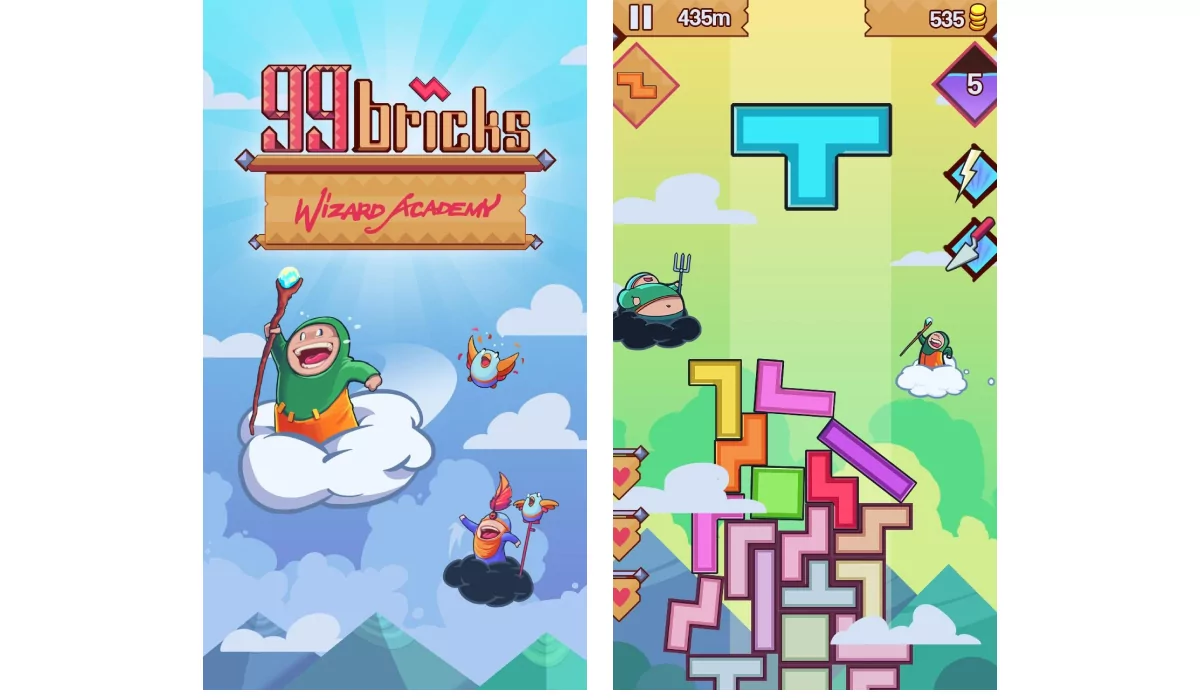 Another non-canonical tetris-like game here. 99 Bricks Academy is a fun and addictive game if you ask me. The goal of this game is to build a tower using the falling figures. The taller the tower gets the harder it becomes to place figures in the most suitable spot. The tower starts to tilt and swing from side to side so you have to catch the ideal moment.
The game has tons of cosmetics for your wizard avatar and a neat visual style that won't leave you indifferent. 99 Bricks Wizard Academy is a great "backward" tetris puzzle for sure. Given that it's a free application, it's no wonder that it has ads. To remove them completely and enjoy the pure fun of building the tallest tower you Should get yourself a reliable adblocker that works for apps and games. AdLock, for instance.
Drop The Number: Merge Puzzle
Free, Contains ads, In-app purchases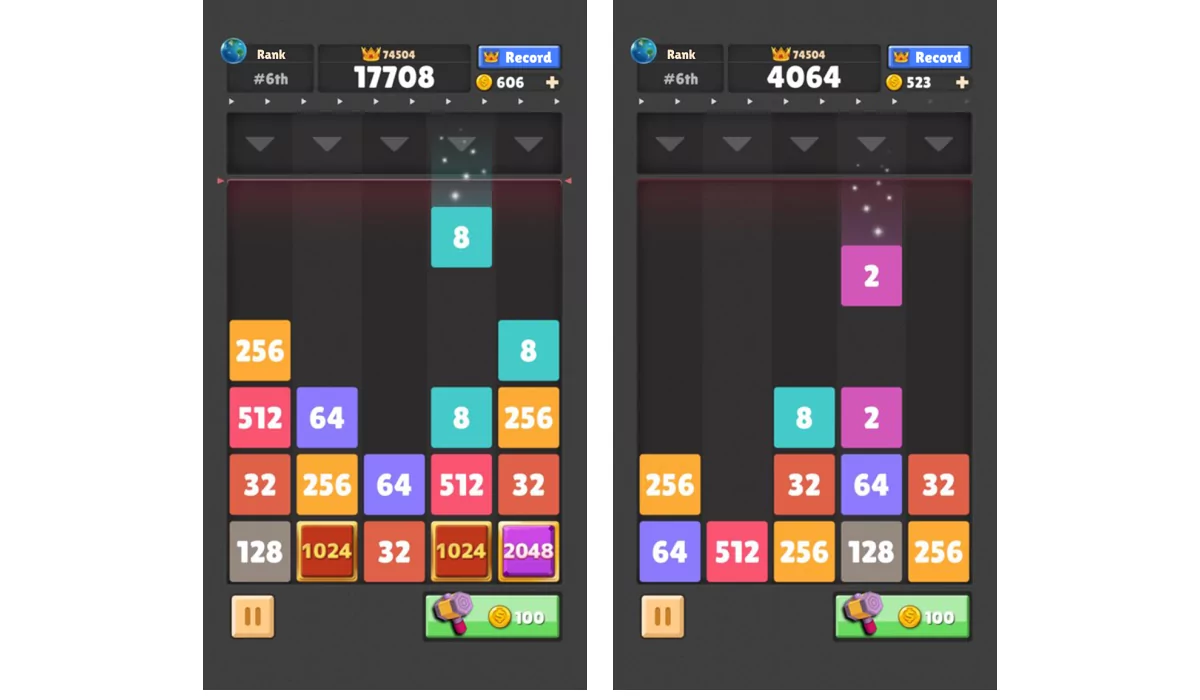 Is this one a tetris? Not really. Although it has some of the tetris mechanics like falling blocks and the "burning line" is substituted with merging similar blocks, it's not a classic tetris. Don't get me wrong, it's a cool game that resembles tetris but has its own charm.
Being another free game, it has loads of ads. On top of commonly placed ad breaks before and after rounds, you can get an ad when you hit 1024, 2048, and 4096 when merging. Dumb, right? Some people report that ads even lock out the game so they have to kill the process and relaunch it. Poor ad quality and placement can kill even a really good game, so if you enjoy playing the Drop The Number: Merge Puzzle, you should get an adblocker.
Falling Lightblocks
Free, In-app purchases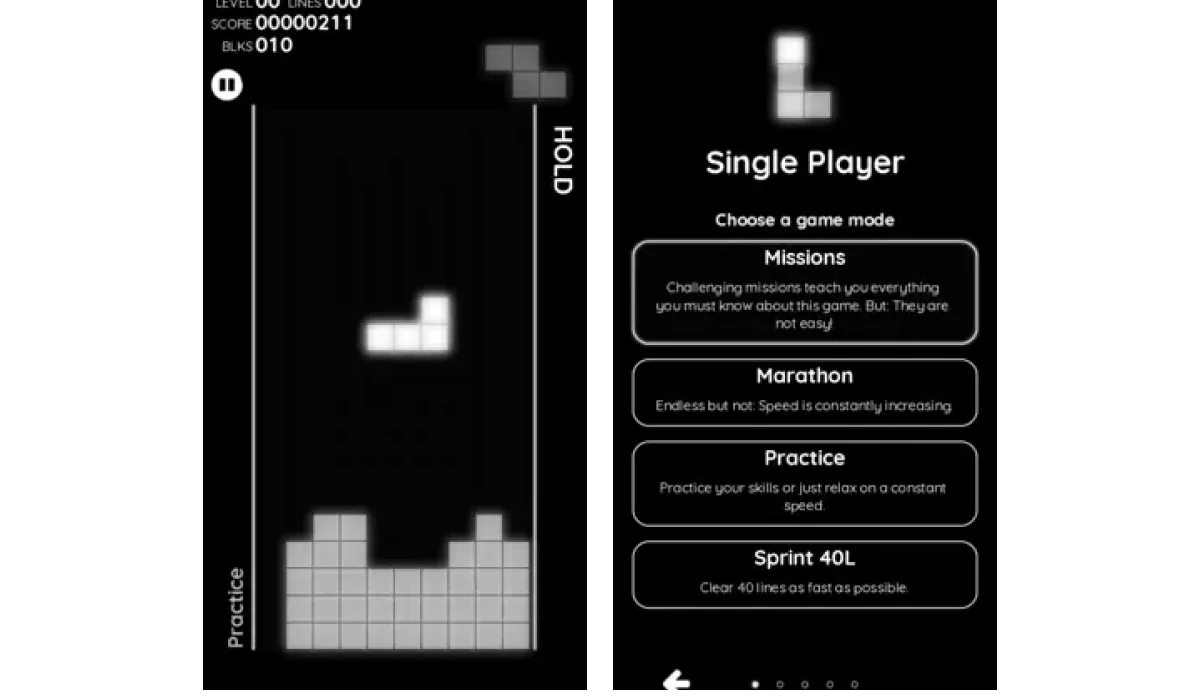 Falling Lightblocks is an interesting representative. It's a classic falling blocks game where you can rotate blocks mid-air and the complete lines burn. Just like a classic tetris, this game has a simple and straightforward interface and gameplay without bells and whistles. You can play solo or compete with your friends in multiplayer mode, practice, or go for a marathon.
With its notorious 90-s NES style of gameplay, this game wakes up nostalgia.
What's even cooler about this app is that it has no ads. Yes, it's a tetris without ads.
Yes, it's available for both iOS and Android devices but there's a catch. While you can download it from the App Store, you wouldn't find it on Play Market. The reason for this is a DMCA case. You still can find an APK of this decent game on GitHub. If you want to know more about the reasons for removing the Falling Lightblocks (it's the second time, btw) from Google Play, here's an article from the developer. By the way, the author provides a link to his GitHub where you can download an APK. Honestly, this app is the best tetris without ads for iPhone and the best tetris with no ads for Android, if you ask me.
Quadris
Free, Contains ads, In-app purchases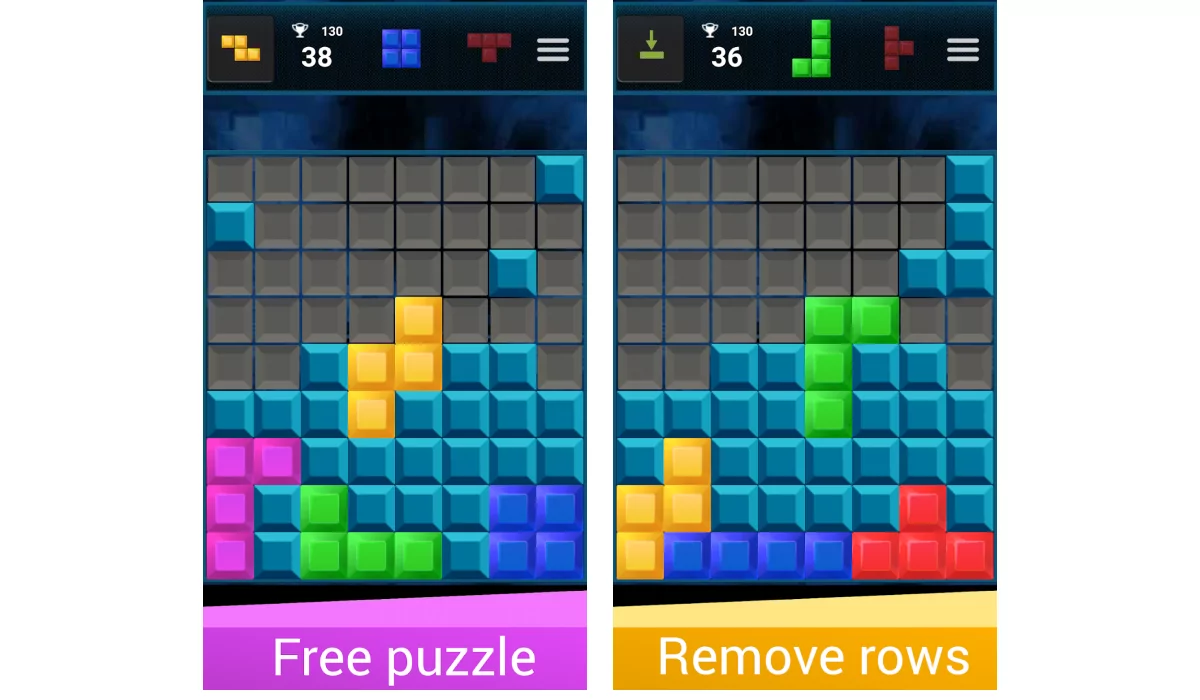 To diversify the list, we give you Quadris. Some confuse it with tetris, but it's not. It's more like a minesweeper. This game is challenging and somewhat hard. It doesn't forgive mistakes. You gotta be very attentive and careful. The concept is interesting and unusual for tetris-like puzzles. Although it has some problems gameplay-wise, they are not game-breaking.
The application contains ads and they can be pretty annoying as they pop out of the blue randomly. Otherwise, it's a neat game to brighten up your leisure. Especially if you know how to block ads on tetris games and their variants.
How to Get Rid of Annoying Ads in Games Like Tetris?
If you're tired of intrusive and distracting ads in games like tetris, there's not much you can do. Let's see.
Upgrade to premium if available
Many games and apps offer a paid subscription that provides an ad-free experience for a certain fee.
Look for alternatives
You may search for apps that are specifically designed to be ad-free. They may come with a price tag but it would be a on-time purchase.
Enable the "flight/airplane mode" on
By disconnecting from the internet, you avoid getting commercials. Yes, the flight mode would also disable any other online features and services.
Use AdLock
There are standalone adblocker applications that can help you eliminate ads in games and other apps. Not all of them are 100% efficient because it's almost unreal. Some games employ measures to bypass adblockers or even force them embedded in the game code.
AdLock is a tried and tested ad blocker app that has been fighting ads for years. Being constantly updated and improved, its blocking algorithms are borderline impeccable. It blocks ads on almost all games and applications available on the market. Any tetris app without ads is real if you have AdLock.
Use an APK distributive
If you're an Android enjoyer, you probably know that you can find an APK of almost any app that would not force tons of ads. And while the majority of APKs from trusted sources are safe and secure, there are websites spreading infected files. What it means is that by downloading an APK from a shady website you can get a virus of any form.
And yeah, while downloading APKs is a pretty widespread practice for Android guys, iOS enjoyers don't have such an option.
Conclusion
We have explored the realm of the best Tetris apps for both Android and iOS, and these picks offer a blissful gaming experience. From seasoned veterans to casual gamers seeking entertainment on the go, these carefully curated apps provide a seamless and enjoyable experience. Whether you choose to upgrade to a premium version, opt for ad-free alternatives, or utilize ad-blocking methods, there are various ways to bid farewell to those annoying ads and embrace uninterrupted gameplay.
Frequently Asked Questions
What is the best Tetris app for iPhone?
If you're searching for a classic tetris puzzle, then Falling Lightblocks is the best tetris app for iphone. Especially, if you're searching for an "iphone tetris no ads". Of course we don't insist that this game has no rivals on the market, but if you're searching for a quality tetris app that is ad-free by typing the "tetris app no ads" in your search field, then stick with Falling Lightblocks.
What is the best Tetris app for Android?
I'd say Falling Lightblocks or Kubik, but it's about personal preferences. Personal preferences may vary, and new Tetris apps may become available over time. I recommend exploring the Google Play Store for the most recent information, user ratings, and reviews to find the best Tetris app that suits your preferences and gaming style on Android. We wish you to find your best android tetris game.
Are Tetris apps with no ads safe?
Tetris apps without ads, like any other apps, are safe to use. However, it's important to exercise caution and ensure that you download them from reputable sources such as official app stores like the App Store for iOS or Google Play Store for Android. If you're downloading an APK distributive, you should also be careful about what source are you getting the app from. If it's GitHub — you'll be perfectly fine.
How to skip ads on Tetris?
Blocking ads on tetris apps is easy. You either get a premium subscription or get yourself AdLock. You may also play offline or use the flight mode, but it would also disable a bunch of online features. And yeah, you won't have a multiplayer option when playing offline/flight mode.
Do you like this post? Share it!
Do you like this post? Share it!