How to Block Amazon Ads Around the Web
Want to make your own shopping decisions?
Hello, dear readers! We suppose you've had enough of commercial content cluttering your internet activities. Today we'll talk about ubiquitous Amazon ads stalking you all over the Web, so if you're searching for ways to stop Amazon ads, you're in the right place.
Online shoppers know that Amazon can be creepy sometimes. One single search on this platform might make you see similar products for weeks after. Not only on Amazon. Everywhere. Sometimes it can be helpful, as you can catch up with all the offers and discounts for the stuff you were actually about to buy. But it can become embarrassing as well, when your very private products of interest appear in your browser at work, for instance.
Amazon is not reading minds, though. They simply combine a few features, particularly Amazon's ad plugins on many websites and your shopping search history, to keep you a step away from purchasing the products. The feature is called Internet-based ads. And they are scattered across the Web so much that the question of how to block Amazon ads has become another top search query globally.
With our guide, you will know how to get rid of Amazon ads including Amazon Prime Video. Let's get it started!
How to get rid of Amazon ads on Chrome
Internet-based ads, or retargeting, is a brilliant idea because it gives people more comfort for online shopping by using their browsing habits. Last, for most of us, includes using the same web browser and default settings for the websites visited. Virtually every second Internet user has their own Amazon account and they open the platform through Google Chrome. This is why we want to focus on the tricks that work for this specific browser.
The first thing to do is to turn the Amazon ad personalization off. Open amazon.com/adprefs in your Chrome and choose the option "Do Not Personalize Ads from Amazon for this Internet Browser". This will not remove the ads completely but at least depersonalize them, so you will see random products at first. To completely remove Amazon ads stay calm and read further.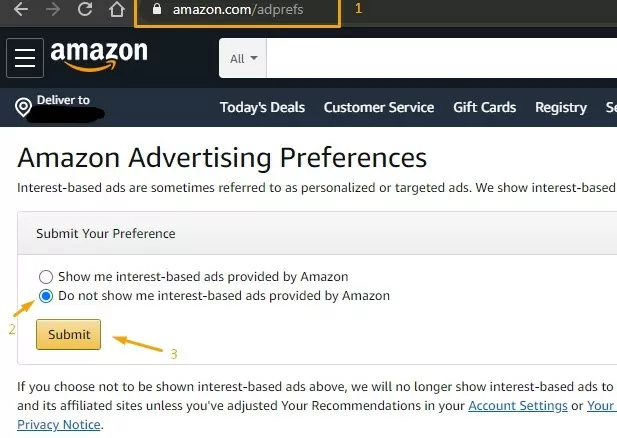 How to Stop Amazon Ads Using AdLock
All these ad boxes with Amazon products are integrated into your websites, so a tool is needed to block the script responsible for loading and displaying the ad. A high-quality ad blocker software is the tool you are looking for.
The problem with most of the free and paid ad blockers is that they come from a box with a whitelist of "trusted" websites and that often includes Amazon services. AdLock is one of the very few ad blockers on the market with a no-whitelist lifetime guarantee.
Our ad blocker is efficient in every way. With AdLock on your device, you'll block everything concerning the "Sponsored" caption forced by Amazon. For instance, let's look at these three types of adverts: search result ads, product page ads, and sidebar commercials.
This one goes with the search result commercial.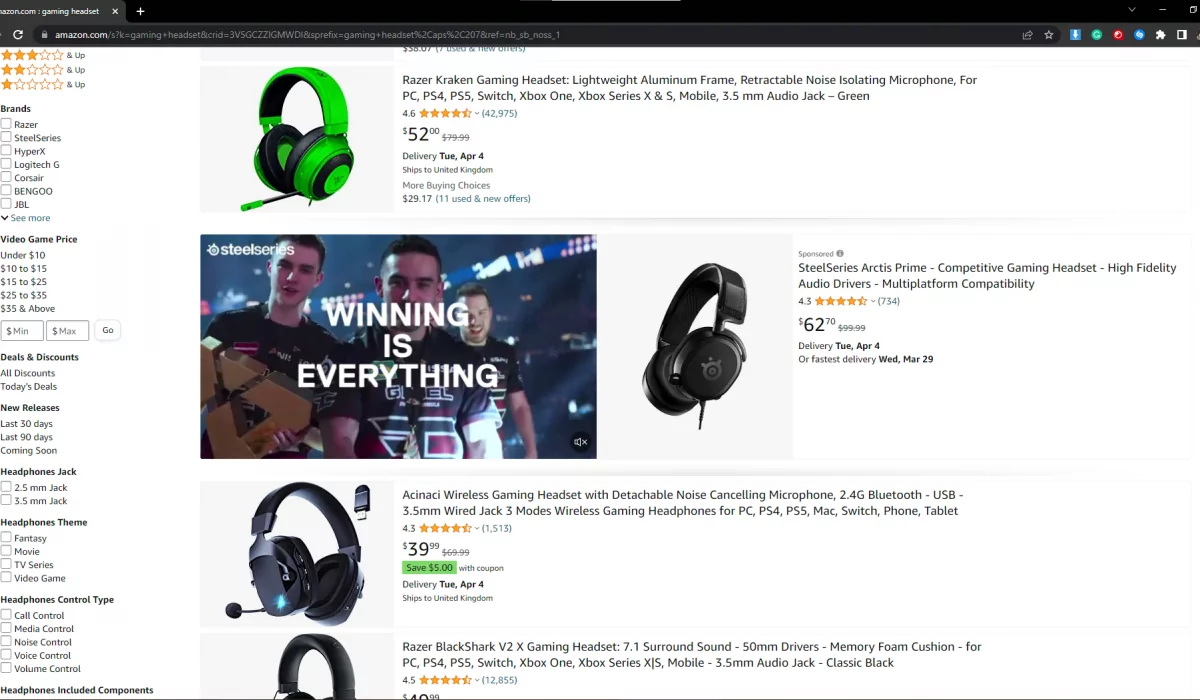 This screenshot shows the product page commercials.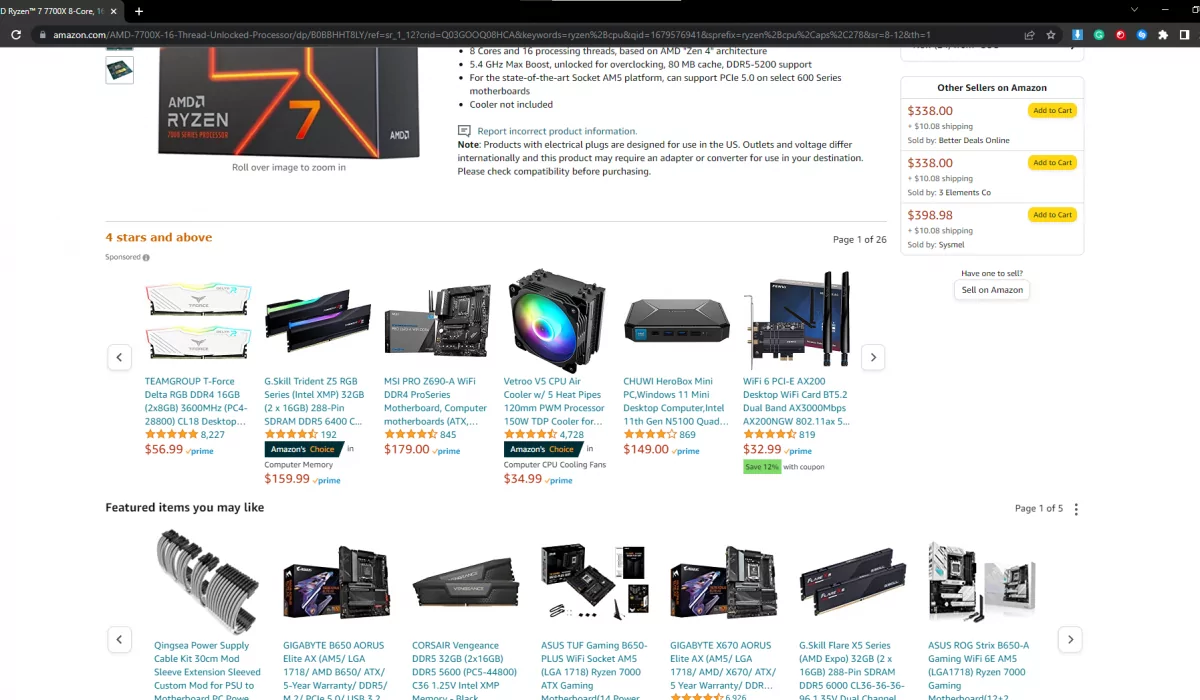 And then there are sidebar ads which are not that frequent nowadays, but they still pop up from time to time. Unfortunately, I could catch only one and then it went away. But I'm sure you know what I'm talking about.
Now, let's check the same categories with AdLock enabled.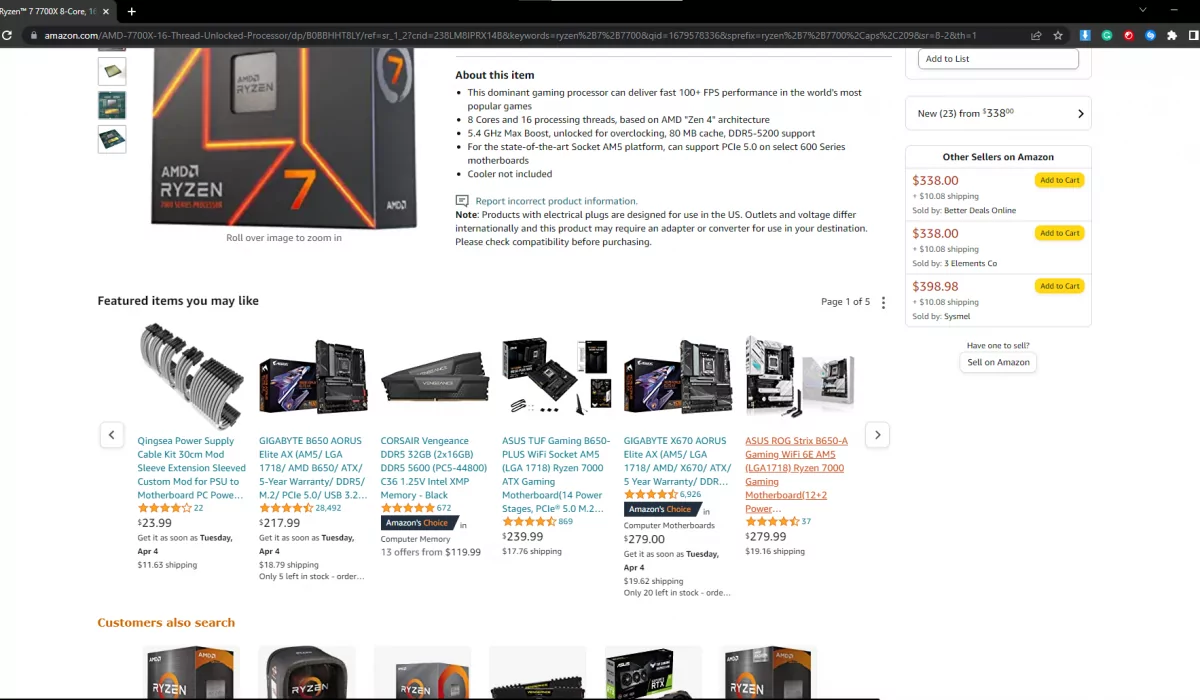 There you have it – no sponsored content, no placeholders, no nothing. Just the item and recommended goods that go well with it. And yeah, search result ads also go away but the list is long, and it's physically impossible to take a shot of the whole page.
Our product (we're talking about the full-fledged application) is developed to work systemwide, which means no matter the browser you use: Firefox, Chrome, Opera, etc. – AdLock will block ads in any of them. On top of that, AdLock will also clean up all software from being cluttered with commercials and provide you with reliable anti-tracking and anti-malware protection online.
AdLock will remove all the ads on Amazon pages, as well as Amazon ads on other websites, providing you with a clear view of the important content. This also saves your traffic, keeps your data safe, and makes phishing impossible. While AdLock for Windows protects everything on your PC at a modest price, there is also an AdLock Chrome browser extension that is completely free of charge. Not only Amazon retargeting but also Google context ads and many other annoying things are in the past with this powerful piece of software.
Additional extensions in Google Chrome
Blocking ads on other websites is awesome, but what about using the Amazon website itself? They have ads too, and, what many shoppers find especially sneaky, you never know whether the product you see is just great or it is sponsored. We are not saying sponsored products or brands can't be any good but they make our comparison and decision making harder.
Luckily, there are Chrome-specific solutions that are designed to remove such promoted listings from your view. Here we'd like to list some of the best Chrome extensions for Amazon ads:
Amazon Ad Blocker;
Amazon adBlocker;
eBay™ & Amazon™ Adblocker.
There are many new extensions constantly appearing on Chrome Web Store so you will surely find one to your taste. Using the Amazon ad blocking extension will not only make the choice of products much more straightforward but also remove ads to make the Amazon interface look as it should.
How to turn off Sponsored Products on Amazon
Now let's talk more about sponsored sections on Amazon. You've 100% noticed that the first few results are often sponsored ads. These ads are paid for by companies to appear when customers search for certain terms. As you can imagine, companies are willing to pay big bucks to ensure that their products show up on that first page of search results, because most users never scroll beyond that page.
That's where Amazon Sponsored Ads come in. They are similar to Google Adwords, displaying as product ads within Amazon's organic search results. However, they are much more affordable and straightforward to use than Adwords.
But, what if you're tired of seeing these sponsored ads every time you search for something on Amazon? As we've already mentioned, you can use an amazon adblocking extension like "Amazon adBlocker" or "Amazon Lite". These browser extensions are created to work specifically on Amazon dot com and block all sponsored products, sponsored brands, and other ads there. Yes, you definitely enhance your "amazoning" with these extensions, but you should also know that they're not perfect and never will be. The problem with extensions is that they're limited in their operation. On top of that, extensions are oftentimes free which may raise some questions about how they make money. Usually, free extensions have their cut from partnerships like "acceptable ads program" or else. Some of them even collect your data to then sell it.
It has always been a better choice to stick with a reliable solution with a clear policy and goals. We here at AdLock have them solid and straightforward – we provide an ad-free Internet experience, never access/collect/sell personal info, and provide top-tier privacy security.
Guide of settings for removing Amazon's Personalized Ads
Here's another way how one can limit the data that Amazon would use for its ads retargeting. While by default Amazon gives itself all permission for data collection, we can adjust it in the account settings.
Simply go to amazon.com/gp/history to see the browsing history panel of your Amazon account. Here you have a few options:
Click

Remove

next to each product you wish not to receive personalized ads for;

Open the

Manage History

drop-down menu and

Remove all items

to have all history deleted in one go;

Turn the

Browsing History

toggle

Off

to prevent Amazon from collecting your future search results for its ads.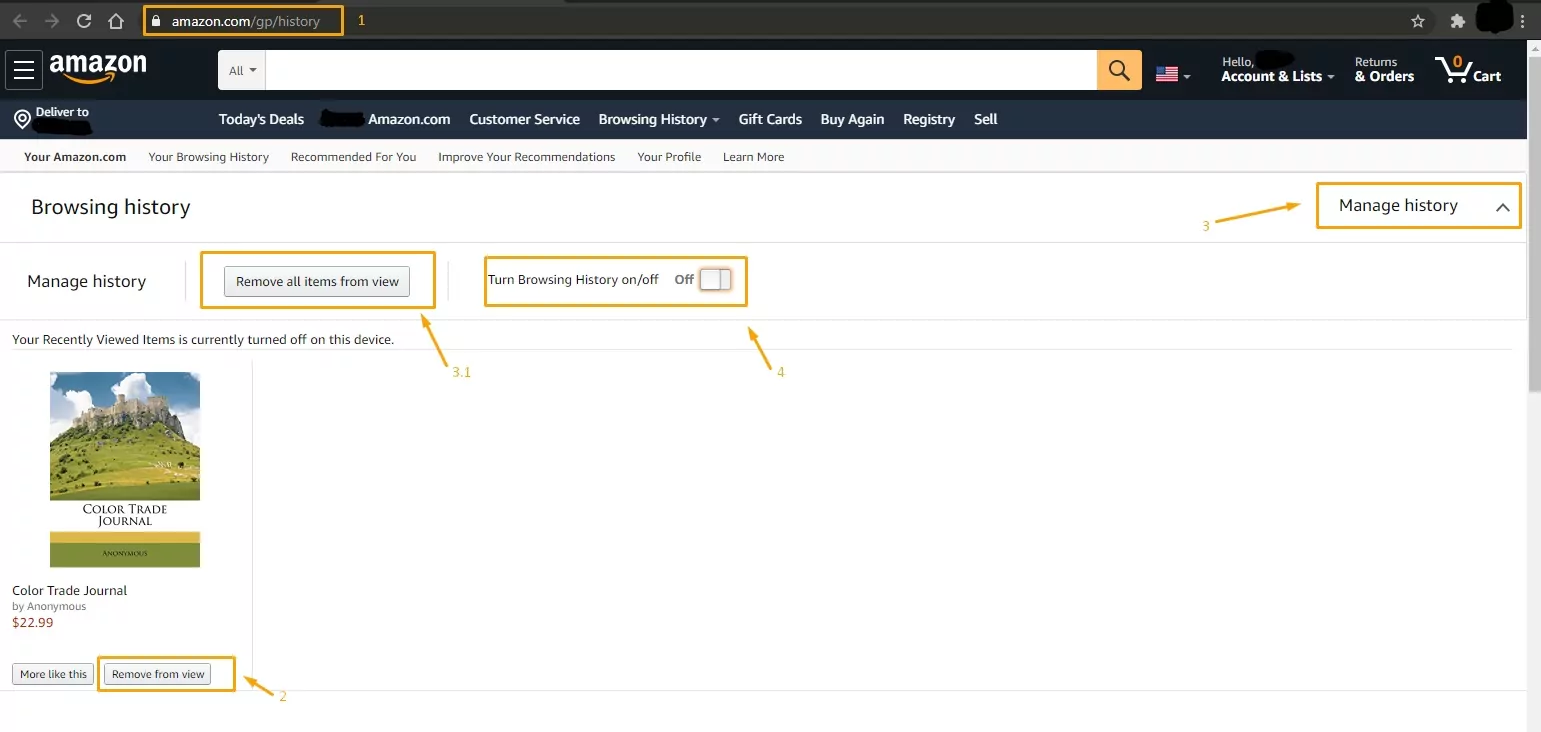 Bear in mind that Amazon settings are cookie-based. This means that the adjustments that we described will only work for one browser session. If you decide to shop with another browser or clear the cookies of your Chrome, personalization will become active again. However, you can simply turn it off again using the hints from this guide and enjoy online shopping to the fullest.
How to block ads on Amazon Prime Video
If you are an Amazon Prime Video user who is looking for ways to reduce or eliminate ads while watching content on the platform, here are some tips:
Upgrade to a Prime Video subscription: One of the primary benefits of having an Amazon Prime membership is the ability to stream content on Prime Video without ads. By subscribing to Prime Video, you can watch your favorite TV shows and movies without any interruptions.
Use ad-blocking software: While using ad-blockers on Amazon Prime Video is against the terms of service, you can install browser extensions or ad-blocking software on your device to block ads on other websites or streaming platforms.
Skip ads on Amazon Prime: Some ads on Prime Video can be skipped by fast-forwarding through them. If you notice the ad is skippable, press the fast-forward button until the ad is over.
Use Amazon Fire TV Stick: If you use Amazon Fire TV Stick to stream content on Prime Video, you can use the fast-forward or skip button on your remote to skip ads.
AdLock is one of the most efficient solutions here. You can block ads on prime video with an AdLock extension or a full-fledged application. Of course, the app provides a better result due to its ability to cope with more complex ways of ad delivery.
Please note that some content on Amazon Prime Video may have mandatory ads that cannot be skipped or blocked.
Conclusion
Overall, AdLock is a great ad-blocking software that provides effective ad-blocking, malware protection, a user-friendly interface, customizable settings, and multiple platform support. If you are tired of dealing with annoying ads while browsing the internet, AdLock is definitely worth trying out. Being extremely flexible and versatile, our adblocker will 100% meet all your needs. It's capable of blocking ads on the most popular streaming services (e.g. YouTube, Twitch, Netflix, Spotify, etc.), news websites, mobile games, social media platforms, and so on.
Frequently Asked Questions
Which advertising is used by Amazon?
Amazon uses various types of advertising to promote its products and services. Here are some of them:
Sponsored Products: ads that appear within Amazon's search results and on product detail pages. These ads are created by sellers and advertisers who want to promote their products to customers who are searching for similar products on Amazon.
Sponsored Brands: ads that appear at the top of Amazon's search results and feature a brand logo, custom headline, and up to three products. These ads are created by advertisers who want to promote their brand and products to customers on Amazon.
Sponsored Display: ads that appear on Amazon and non-Amazon websites and are targeted to customers based on their browsing and purchasing behavior. These ads are created by advertisers who want to reach a broader audience and promote their products outside of Amazon.
Amazon DSP (Demand Side Platform) is an advertising platform that allows advertisers to programmatically buy display and video ads across the web, including on Amazon and non-Amazon websites. Amazon DSP offers various targeting options to help advertisers reach the right audience for their products.
Video Ads: offers video ads that appear on Amazon-owned and operated websites and devices, including Fire TV and IMDb TV. These ads are designed to promote products and services to customers who are watching video content on Amazon's platforms.
How does Amazon advertise its website?
Amazon uses a variety of advertising channels to promote its website and drive traffic to its platform. Here are some of them: Search Engine Advertising, Social Media Advertising, Display Advertising, Email Marketing, Influencer Marketing, Affiliate Marketing.
Why do some items on Amazon say sponsored?
When an item on Amazon says "sponsored," it means that the product listing is part of Amazon's advertising program called Amazon Advertising. Essentially, the seller or brand has paid for the product to be prominently featured in search results or on product detail pages. By sponsoring their product, sellers can increase visibility and attract more potential customers to their product listing. Sponsored products are marked with a label that says "sponsored" to indicate that they are part of an advertising program and not a regular, organic search result. It's worth noting that sponsored products are not necessarily better or higher quality than non-sponsored products. They are simply products that sellers have paid to advertise in order to increase their visibility and sales on Amazon's platform.
Why do I have ads on Amazon Prime?
Despite being a paid service, Amazon Prime still displays ads on certain pages and products.The reason why you may see ads on Amazon Prime is that Amazon offers an advertising program called "Sponsored Products." These ads can appear on the search results pages, product detail pages, and even within the search suggestions. The ads are targeted based on the user's search history and browsing behavior, as well as the keywords that the advertiser has chosen to target. Fortunately, with our article you now know how to remove sponsored ads on Amazon. You've got a bunch of methods to remove all sponsored items to choose from.
Want to make your own shopping decisions?
Do you like this post? Share it!