Want to make your own shopping decisions?
Online shoppers know that Amazon can be creepy sometimes. One single search on this platform might make you see similar products for weeks after. Not only on Amazon. Everywhere. Sometimes it can be helpful, as you can catch up with all the offers and discounts for the stuff you were actually about to buy. But it can become embarrassing as well, when your very private products of interest appear in your browser at work, for instance.
Amazon is not reading minds, though. They simply combine a few features, particularly Amazon's ad plugins on many websites and your shopping search history, to keep you a step away from purchasing the products. The feature is called Internet-based ads. And they are scattered across the Web so much that the question of how to block Amazon ads has become another top search query globally. And with this short guide, you will know-how. Let's go!
How to get rid of Amazon ads on Chrome
Internet-based ads, or retargeting, is a brilliant idea because it gives people more comfort for online shopping by using their browsing habits. Last, for most of us, includes using the same web browser and default settings for the websites visited. Virtually every second Internet user has its own Amazon account and they open the platform through Google Chrome. This is why we want to focus on the tricks that work for this specific browser.
The first thing to do is to turn the Amazon ad personalization off. Open amazon.com/adprefs in your Chrome and choose an option "Do Not Personalize Ads from Amazon for this Internet Browser". This will not remove the ads completely but at least depersonalize them, so you will see random products at first. To completely remove Amazon ads stay calm and read further.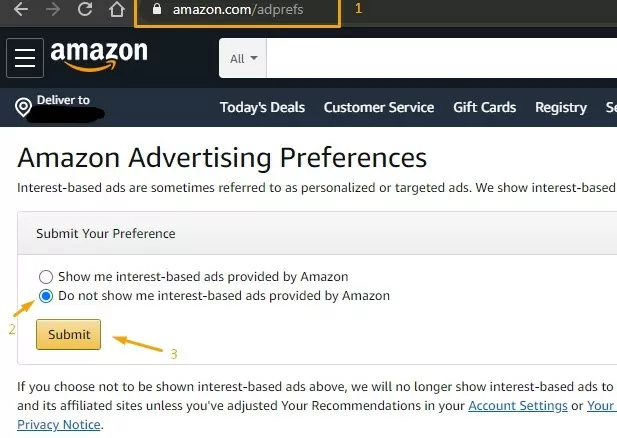 AdLock
All these ad boxes with Amazon products are integrated into the websites you use, so a tool is needed for blocking the script responsible for loading and displaying the ad. A high-quality ad blocker software is the tool you are looking for.
The problem with most of the free and paid ad blockers is that they come from a box with a whitelist of "trusted" websites and that often includes Amazon services. AdLock is one of the very few ad blockers on the market with a no-whitelist lifetime guarantee.
AdLock will remove all the ads on Amazon pages, as well as Amazon ads on other websites, providing you a clear view of the important content. This also saves your traffic, keeps your data safe, and makes phishing impossible. While AdLock for Windows protects everything on your PC at a modest price, there is also an AdLock Chrome browser extension that is completely free of charge. Not only Amazon retargeting but also Google context ads and many other annoying things are in the past with this powerful piece of software.
Additional extensions in Google Chrome
Blocking ads on other websites is awesome, but what about using the Amazon website itself? They have ads too, and, what many shoppers find especially sneaky, you never know whether the product you see is just great or it is sponsored. We are not saying sponsored products or brands can't be any good but they make our comparison and decision making harder.
Luckily, there are Chrome-specific solutions that are designed to remove such promoted listings from your view. Here we'd like to list some of the best Chrome extensions for Amazon ads:
Amazon Ad Blocker;
Amazon adBlocker;
eBay™ & Amazon™ Adblocker.
There are many new extensions constantly appearing on Chrome Web Store so you will surely find one to your taste. Using Amazon ad blocking extension will not only make the choice of products much more straightforward but also remove ads to make the Amazon interface look as it should.
Guide of settings for removing Amazon's Personalized Ads
Finally, one can limit the data that Amazon would use for its ads retargeting. While by default Amazon gives itself all permission for data collection, we can adjust it in the account settings.
Simply go to amazon.com/gp/history to see the browsing history panel of your Amazon account. Here you have a few options:
Click Remove next to each product you wish not to receive personalized ads for;
Open the Manage History drop-down menu and Remove all items to have all history deleted in one go;
Turn Browsing History toggle Off to prevent Amazon from collecting your future search results for its ads.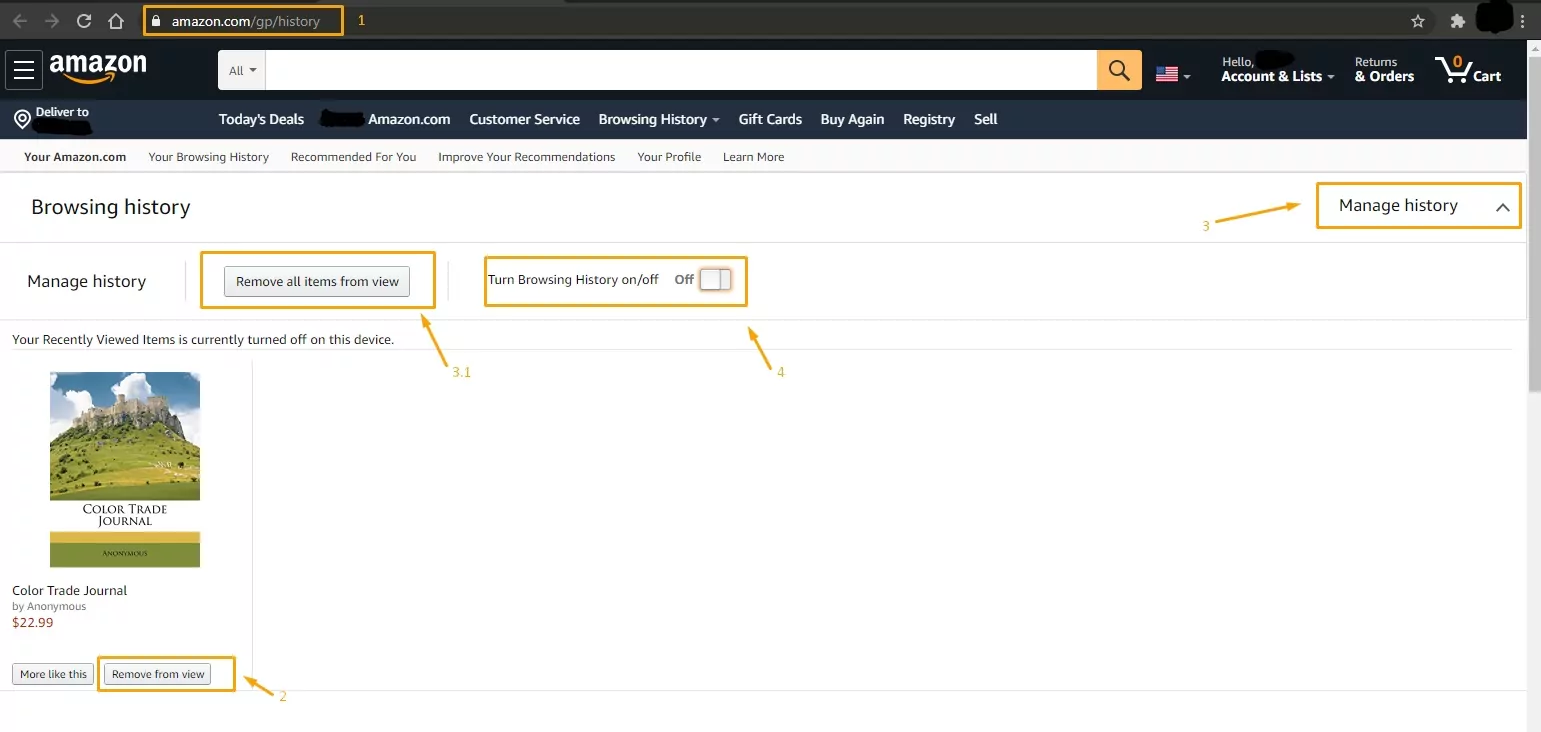 Bear in mind that Amazon settings are cookie-based. This means that the adjustments that we described will only work for one browser session. If you decide to shop with another browser or clear cookies of your Chrome, personalization will become active again. However, you can simply turn it off again using the hints from this guide and enjoy online shopping to the fullest.
Want to make your own shopping decisions?