How to Remove Sonic Dash Ads Once and For All
Unlock Ad-Free Gaming Bliss
Sonic Dash hit its 10th anniversary earlier this March, and we warmly congratulate them on that. Understandably the game now is not the same as it used to be ten years ago, and the drastically increased number of ads is the main change. Sonic Dash is one of the few successful SEGA mobile game projects, and developers exploit the hell out of its advertising potential. And if you don't want ads, you are expected to pay. In this article, we will discover if purchasing in-game stuff for real money is the only way to remove ads in Sonic Dash and whether AdLock can help us. Spoiler alert: yes, it can.
Does Sonic Dash Have Ads
Not only does Sonic Dash contains ads they appear with infuriating frequency. Ads pop up every 40-60 seconds making gaming extremely complicated as they pause the game and sometimes don't bring you back where they left you. These include:
Banner ads: These are small, rectangular ads that appear at the top or bottom of the screen.
Video ads: These ads play as a video, usually lasting between 15 and 30 seconds.
Full-screen ads: These ads take up the entire screen, usually appearing between levels or when you pause the game.
Interstitial ads: These ads appear as pop-ups either during gameplay or when you pause the game.
Native ads: These are designed to blend in with the game's interface, often appearing as a recommendation or sponsored content. Yes, those constant beggings from the game to buy something are considered native advertising.
What Does SEGA Say About Removing Ads in Sonic Dash
Too many ads in Sonic Dash drive gamers nuts, but let's see what SEGA has to offer to solve that issue. And SEGA says you can eliminate third-party advertising by purchasing something in the game with real money. That's it. It's unclear whether that step will remove ads forever or whether that ad-free experience will remain if you change your device. And SEGA weirdly gatekeeps that information. I waded through forums and Reddit pages and specified Sonic Dash SEGA support website that is too terse and needs more valuable information. Finally, I gave up, created an account on the support site, and submitted the request to clear things up. But no matter how much I tried to rephrase my request to get the needed info, I ended up with nothing specific. Yes, in-app purchase removes the Sonic Dash ads, but conditions remain unclear. Check the screenshots below. FYI, you have to check the status of your request on the website, as you won't get an email notification when something changes. The big minus goes to SEGA support.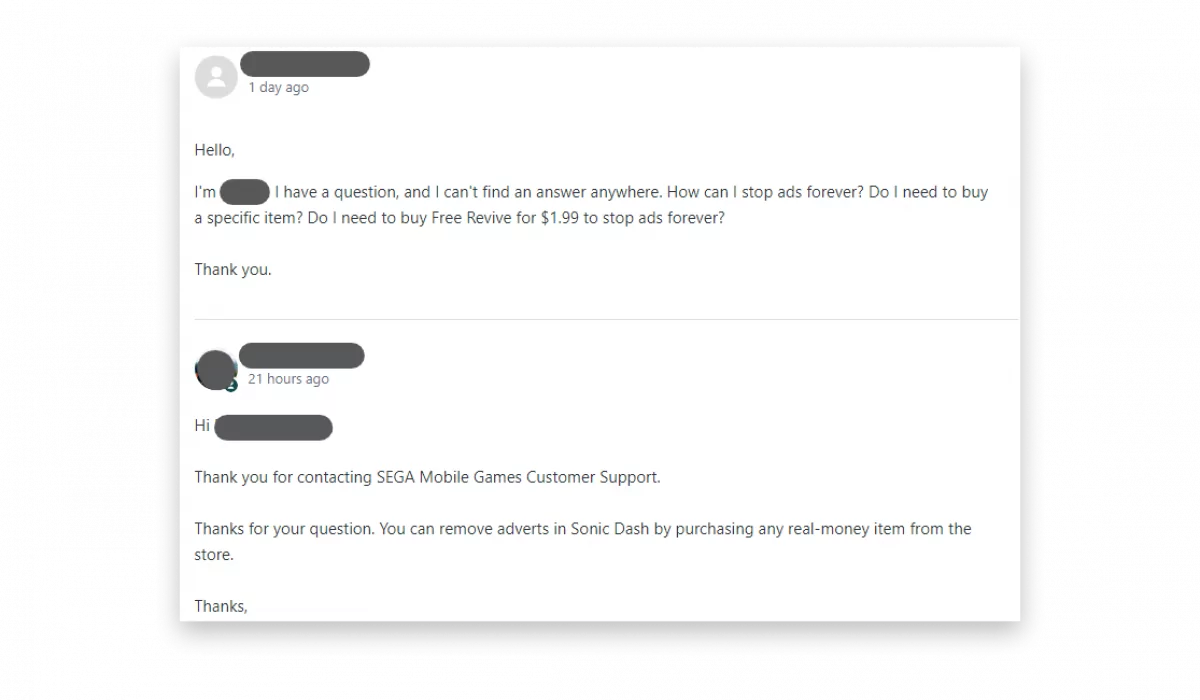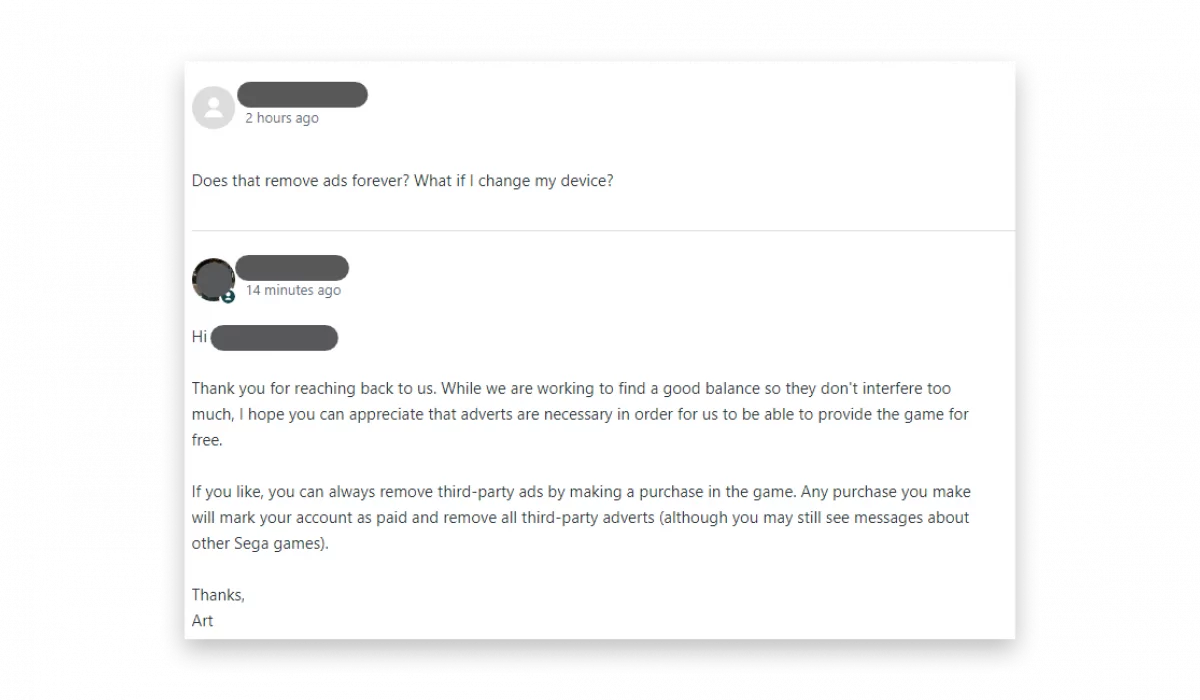 Play Sonic Dash Without Ads With AdLock
AdLock is an obvious solution to play Sonic Dash without ads. AdLock is a system-wide ad-blocking software that removes third-party tracking and enhances web privacy. AdLock can also remove ads from various games and applications, including solitaire apps, Reddit, Daily Mail, Wordle, etc. You can purchase it for a yearly cost of $12 or a monthly fee of $3.49. To use AdLock for Sonic Dash, you must first install the ad blocker on your Android device and complete a few adjustments:
Launch AdLock and access the Settings menu from the hamburger icon.
Select "Check for Updates" to ensure you have the latest version.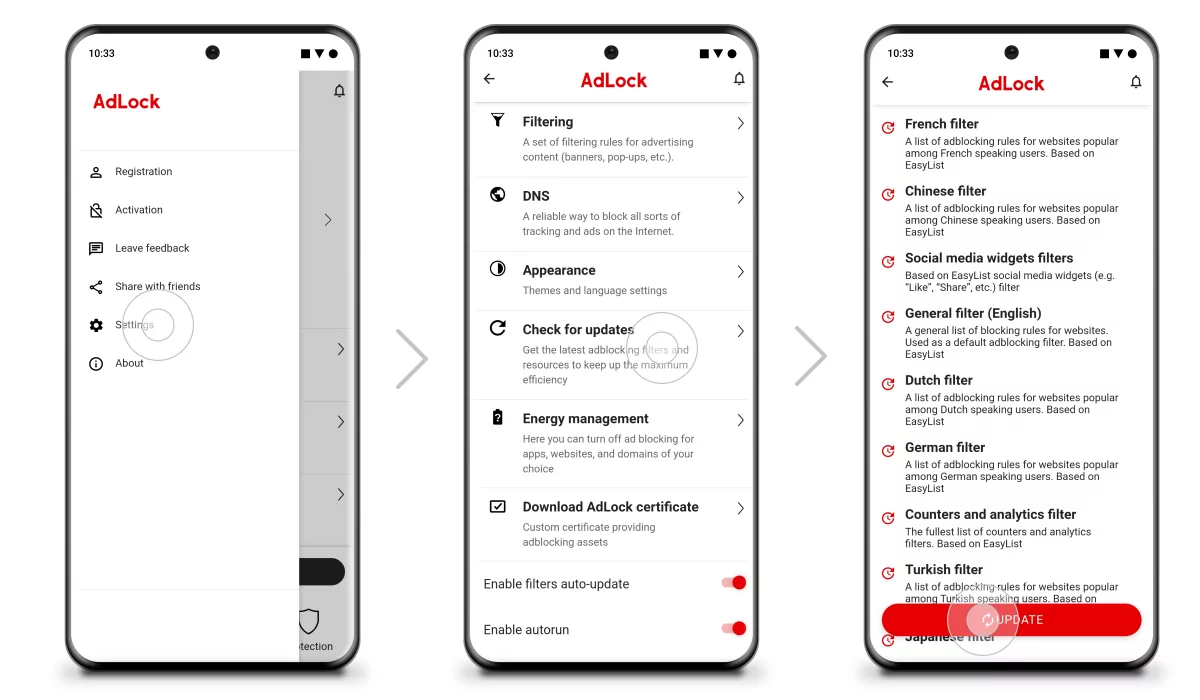 Navigate to the "Buy now" option and select your preferred plan.
Proceed to the AdLock tab and install the AdLock certificate to enable HTTPS filtering.
Once a pop-up window appears, click "OK," and verify your identity by scanning your fingerprint, setting a graphic key, or creating a password. It's important to remember this key for future use.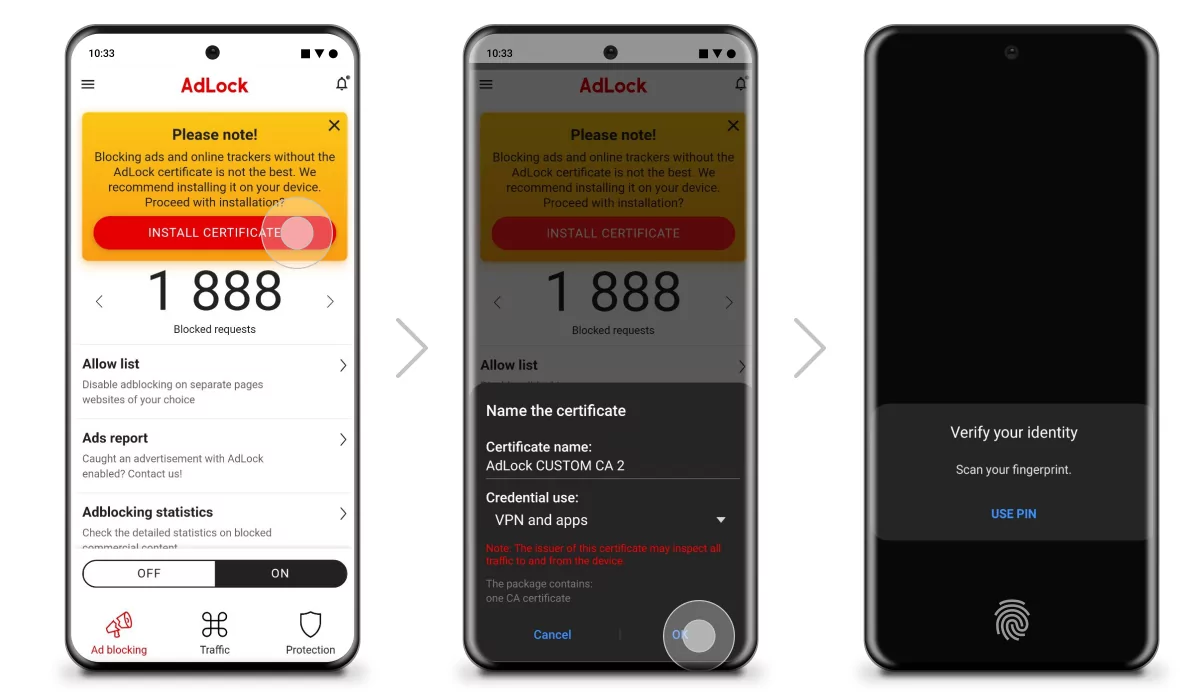 Does AdLlock block ads in Sonic Dash 2?
Yes, with AdLock, you are perfectly capable to get rid of ads on Sonic Dash 2, too.
Using Sonic Dash Mod Apk No Ads
You can find a modded Sonic Dash APK without ads that can come with additional bonuses like free revives, unlimited Red Rings, unlocked special characters, and many others. The internet is full of such things, and you'll have no problem finding a suited apk. However, the AdLock team strongly suggests not installing unofficial applications. Modded APKs can potentially lead to a variety of risks and consequences, among which:
Security risks. Modded APKs can contain harmful malware or viruses that can steal sensitive information.
Compatibility issues. Modded APKs can have tech issues and crash on your device.
Legal risks. Using modded APKs violates the terms of service of Sonic Dash.
Unintended consequences. Modded APKs won't receive the latest updates, which can potentially corrupt your game save data, causing your game to crash or freeze.
And that's how to disable ads on Sonic Dash on Android. The next chapter will give you hints on the iOS version of the game.
What About Ads in Sonic Dash on iOS?
According to users' reviews in App Store, Sonic Dash for iPhones and iPads tend to crash and freeze more often than on Android, with advertisements doubling those troubles.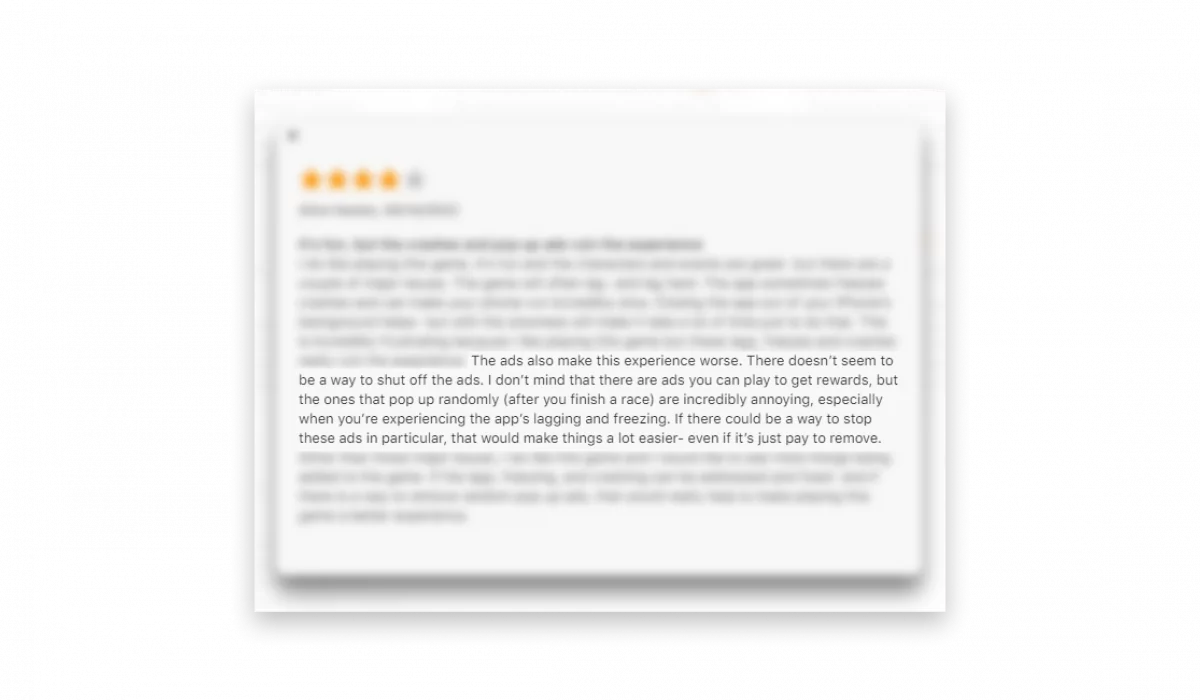 However, you can obtain Sonic Dash ad-free easier as it's now available in Apple Arcade. Apple Arcade is a monthly subscription service costing $4.99, depending on your country, that gives you access to a limited number of games without ads or additional payments. Sonic Dash + is among those games, and it's exactly the same as the original Sonic Dash, but it doesn't have paid services or advertising. All bonuses are bought for Red Rings or other game currency. That might slow the progress in the game for some, but overall that's fair and square. If you don't want to pay a monthly fee for Apple Arcade, you can make an in-app purchase and hope the ads will be gone for good.
The easiest way to stop ads is by using AdLock. To remove ads in Sonic Dash on iOS, complete these steps:
Download and install AdLock for iOS.
Once AdLock is installed, open the Settings app on your iOS device and locate Safari.
Tap on the Safari menu and select Extensions. Then, turn on all AdLock toggles to enable ad-blocking.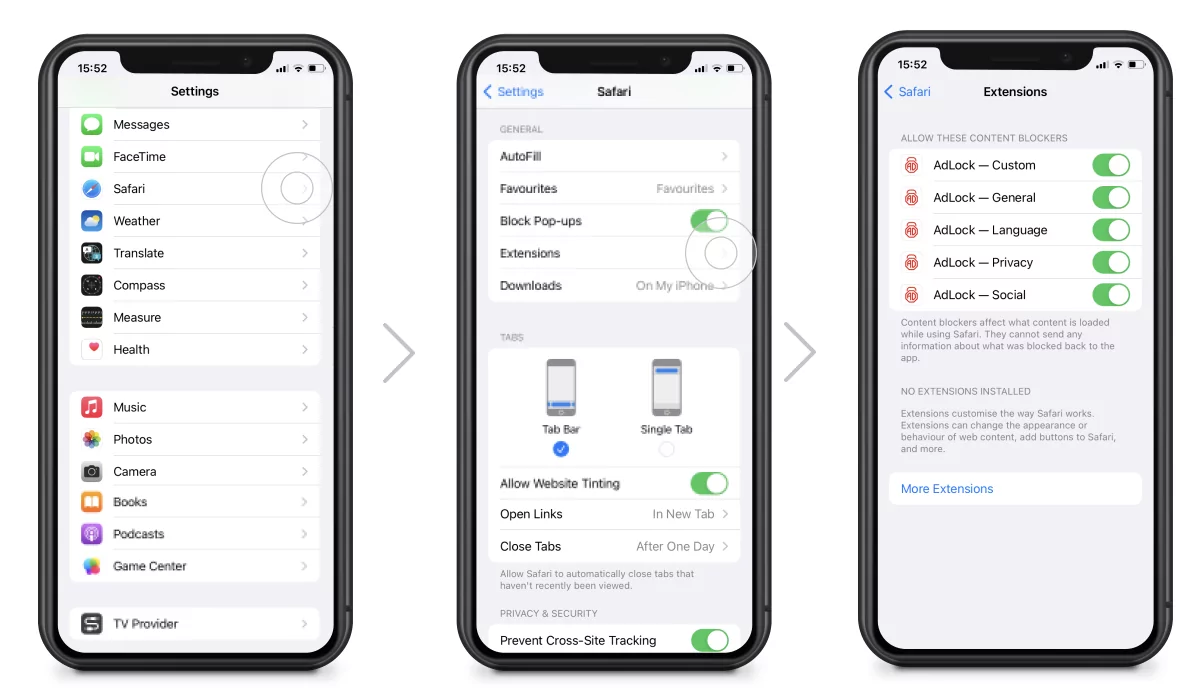 After enabling AdLock, launch the app and toggle on the Ad-free web surfing feature to activate ad-blocking.
Now unlock AdLock's premium features. Tap on the Premium toggle and select either the $12 yearly or $3.49 monthly plan. AdLock offers a 7-day free trial, and if you're not satisfied with the service, you can get your money back without any questions.
Read also: How to play Crossy Road without ads
Conclusion
Sonic Dash is a genuinely fun endless runner with a loyal audience willing to watch ads anyway. SEGA has a tiny room for improvement here: make removing advertising direct and simple, and opt out of heavy full-screen ads. And while SEGA is solving those issues, AdLock comes to the rescue. With AdLock, you can take back control and enjoy Sonic Dash, no ads, as well as Words With Friends, Wordle without ads, Trivia Crack without ads, and many other games and apps.
Frequently Asked Questions
How many ads are there in Sonic Dash?
Sonic Dash has a moderately large amount of ads. What makes them insufferable is that they are really long and frequent.
I can't close ads in Sonic Dash. What should I do?
Unfortunately, you cannot do much other than relaunch the game. You can wait a bit for a chance the game unfreezes on itself, but it's doubtful.
Why does Sonic Dash still pop up ads after I buy something?
Better address this question to the Sonic Dash support team from the app or by this link, and have hope to get an answer. Otherwise, try to reboot your device and relaunch the game.
If I change my device, will there be ads there, or will I need to make a purchase again?
If you sign into your account on the new device, there should be no ads. However, there are reports of other users that claim that ads were back. If you face that issue, contact the Sonic Dash support team.
Unlock Ad-Free Gaming Bliss
Do you like this post? Share it!
Do you like this post? Share it!