Top Calculator Apps for iPad With No Ads
Clean up adverts with AdLock
The joke's on every teacher who ever told us that we wouldn't carry calculators everywhere we go. However, it's still true for iPad users. Which is unfortunate as iPad is well-beloved by students. Its integration with productivity tools like calendars, reminders, and cloud storage enhances students' organization and allows them to keep everything in one place. Considering all the advanced features iPad has, it's bizarre that the first thing you must do once you own it is download a third-party calculator.
There are hundreds of calculators in the App Store, many of which are glitchy, expensive, or stuffed with ads. In this article, you'll find 11 ad-free calculator apps for iPad. But even if some of them will adopt advertising, we'll show you how to use AdLock to stop it.
Why is There no Calculator App on iPad?
The first iPad would initially have a built-in calculator, but Steve Jobs pulled it because he disliked the app design. According to other speculations, Jobs decided that iPad should differentiate from traditional calculators and position it more as a creative and productivity-focused device. The iPad was designed to offer a versatile and immersive user experience, with a focus on apps and features that enhance productivity, creativity, and entertainment. That sounds like something Steve Jobs would do, as he loved to dictate to users how to use his devices. Regardless of whether it's true, in 2023, there are still no native calculator apps on iPads.
11 Best Calculator Apps for iPad Without Ads
With Photomath, you can snap a photo of a math equation and receive instant step-by-step solutions. The app supports both printed and handwritten equations, making it versatile and convenient. It also provides detailed explanations to help users understand the concepts behind each step.
Pros:
The app provides step-by-step solutions to math problems.
Supports both printed and handwritten equations.
Offers detailed explanations for each step.
You can set up an expert account to help other users solve their mathematical problems for money.
Cons:
Advanced features like animated explanations, graphs, and priority support require a subscription to Photomath Plus.
Sometimes solutions are wrong due to recognition errors.
Download Photomath from the App Store (free)
Desmos Graphing Calculator is the top choice if you need a graphic calculator. With its automatic equation plotting, you can easily visualize complex mathematical concepts and explore various graphs and functions. The app supports multiple graph types, including Cartesian, polar, and parametric graphs, giving you the flexibility to analyze and graphically represent different equations. Additionally, Desmos Graphing Calculator allows you to save and share your graphs, making it convenient for presentations and collaborative work.
Pros:
The app is completely free.
Add and input plot data for any function.
Find lines of best-fit, parabolas, and answers to parametric equations.
Plot graphs in the Cartesian plane with zoom functionality.
Support for Braille display and audio navigation through graphs.
Cons:
No major cons; the interface can be a bit overwhelming for new users.
Download Desmos Graphing Calculator from the App Store (free)
Calculator + is a free calculator app that provides scientific calculations in addition to basic arithmetic functions. The app offers a wide selection of themes to customize the interface. Some advanced features like handwriting recognition, graphing, factoring, and currency conversion are available in the upgraded version for $19.99. However, the free version includes ads in the form of a slim banner at the bottom of the screen. Disabling ads requires upgrading or purchasing the Remove Ads feature for $1.99. Alternatively, you can use AdLock to block ads.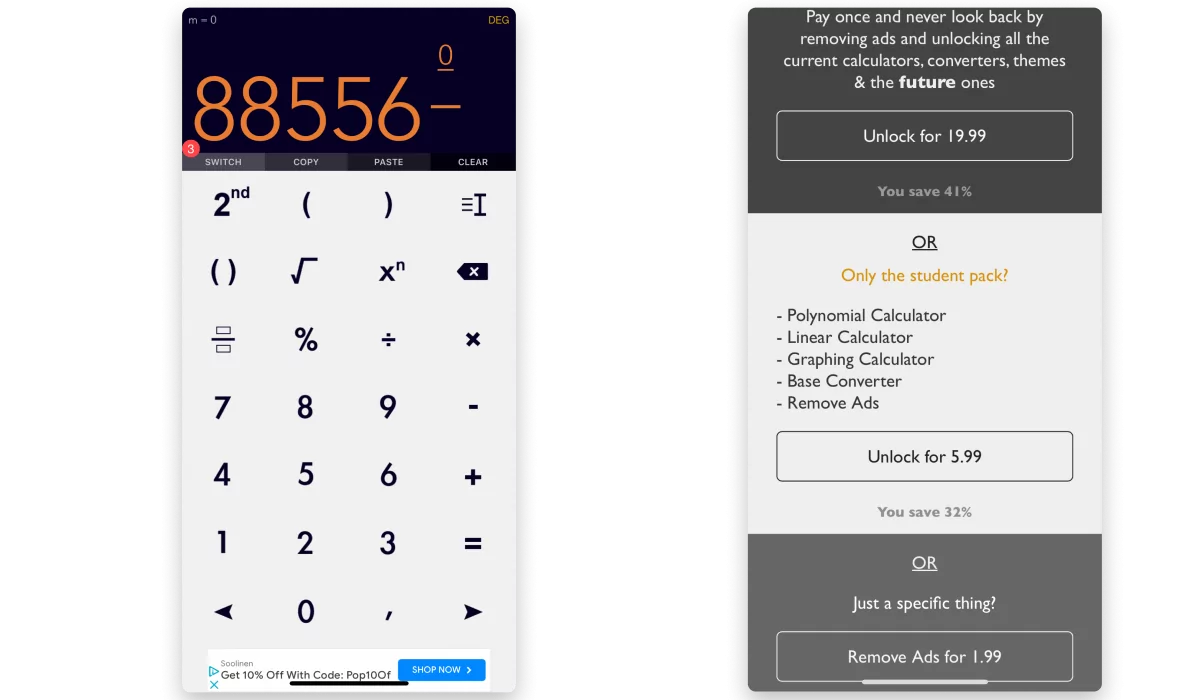 Pros:
Simple, intuitive calculator.
Customization options.
Many useful extra features.
Cons:
The themes are too vivid.
Advertising.
Download Calculator + from the App Store (free)
Calcbot 2 is an iPad calculator (no ads) that offers virtually every calculation feature you can think of. The app provides basic arithmetic functions and advanced features like scientific calculations, unit conversions, and even a handy tip calculator. Calcbot 2 stands out with its history tape that allows you to review and edit previous calculations, making it convenient for tracking and referencing your work.
Pros:
Available on Apple Watch.
Simple and intuitive interface.
Extensive conversion tools with over 200 units across 22 categories.
History tape.
Offers various themes and even app icons for personalization.
Cons:
The side-slide menu glitches occasionally.
Almost every fun extra feature is available only for Calcbot Pro users, which costs $1.99
Download Calcbot 2 from the App Store (free)
Archimedes Calculator is a comprehensive app with a sleek and premium design. The app offers standard arithmetic operations along with advanced scientific functions like logarithms, exponentials, and trigonometry. While the basic version of Archimedes Calculator is free, there is a Pro version available for purchase. The Pro version includes additional features such as a formula library, numeric integration and differentiation, advanced unit conversions, and plotting capabilities. Overall, it might be the best ad-free iPad calculator for users who frequently engage in complex mathematical problem-solving.
Pros:
Automatic equation solving.
Lots of options are available for free.
Laconic design.
Great choice of useful Pro features.
Cons:
The Pro version is subscription-based and costs $2.99 monthly or $17.99 yearly.
Download Archimedes Calculator from the App Store (free)
Calcularium is a spacecraft of calculator apps. The app features voice-controlled input backed by Siri, script and photo modes, and multi-level sub-calculations. You can easily access and edit your calculation history and give clear names to each component for easy recall. Calcularium also includes a comprehensive converter for units and currencies, built-in scientific functions, and an advanced search feature. However, Calcularium isn't an ad-free calculator for iPad. It displays ads and features a flashy ad banner. You can remove the banner by watching a full-page video advertisement.
Pros:
Token-based fluid design
Multiple exclusive features
Voice control
Cons:
Most additional options require a subscription or a one-time payment of $229.99
Ads
Ad-free version priced at $199?!
Download Calcularium from the App Store (free)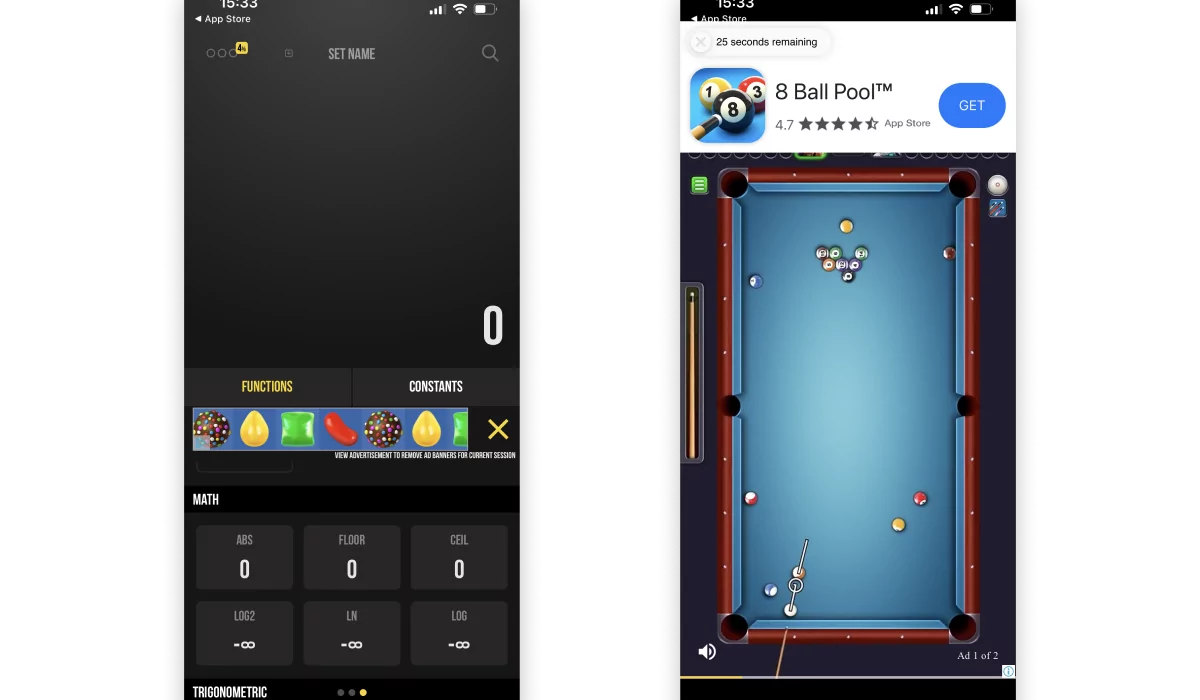 Expressions Calculator is more than just a calculator. It's a mathematician book that solves problems for you. It offers basic and advanced functions, natural constants, formula database, and support for various measurement units. And if you get bored with calculations, you can chat with AI.
Pros:
The best iPad calculator app, no ads, for high-schoolers, STEM students, professors, engineers, and natural scientists in general.
Integration with ChatGPT.
Cons:
ChatGPT mode requires a subscription.
Download Expressions Calculator from the App Store (free)
Sci:Pro Calculator is a calculator app for iPad without ads with an enormous amount of features. Basic, Scientific, and Programmer modes offer a range of functionalities, including high precision, history view, copy-paste options, and email sharing. Enjoy features like trigonometric and logarithmic functions, radix conversion, bitwise operators, and more.
Pros:
Cool Casio-inspired interface.
Multiple modes.
The option of sharing.
Calculation history.
Cons:
There're no significant disadvantages besides being too specialized for a regular user.
Download Sci:Pro Calculator from the App Store (free)
​​Good Grapher™ is a beloved tool by engineering students. This powerful scientific graphing calculator earned trust as the closest equivalent to Ti-84. It offers an array of features, including a history tape, support for real and complex numbers, different angle modes, and a wide range of functions. Additionally, it enables graphing in 2D and 3D and provides math-solving capabilities for polynomials and linear equations.
Pros:
The calculator offers customizable graph colors, supports multiple graph types, provides function tracing, and enables automatic scanning for min/max values and intersections.
It allows for easy sharing of calculations through various options.
The calculator can evaluate entire expressions, providing comprehensive results.
Cons:
The interface may initially seem overwhelming due to its extensive functionality.
Certain advanced graphing features are only available in the Pro version, which costs $1.99.
Download Good Grapher™ from the App Store (free)
Calculator # offers a powerful mathcore and algebra engine, making it suitable for many users, primarily students. The app includes basic and advanced functions, 14 memory variables, customizable functions, and supports fraction and degree/angle calculations. Calculator # also offers equation solvers, 2D graphing with smooth zoom and transformation, and is available in multiple languages. It's not an iPad calculator app without ads, though. The free version includes banner advertising that disappears after 223 seconds and occasional random video ads with varying durations.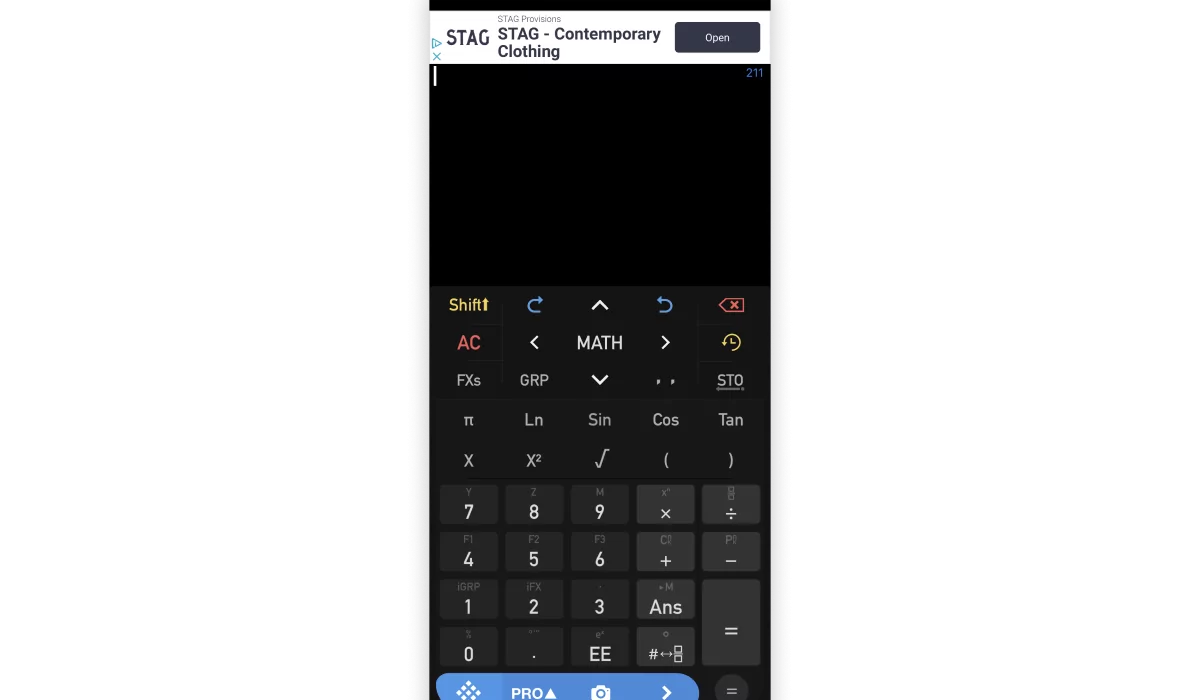 Pros:
History tape view.
Ability to edit and export expressions/results.
Photo/writing recognition.
Cons:
Only two available Photo recognition in a free version.
Contains highly annoying ads.
Pro features are only accessible through monthly subscriptions.
Download Calculator # from the App Store (free)
Calc 2M is a free iPad calculator without ads that combines standard and pro features in a user-friendly design. With features like history tracking, drag-and-drop functionality, customizable themes, export options, and a convenient widget, it offers a seamless calculation experience. Colored syntax enhances expression readability, and advanced functions cater to students, engineers, and scientists. You can even personalize Calc 2M with customizable settings to suit your preferences.
Pros:
All mathematics-related features are free.
Themes are very pleasant to the eyes, and you can try them on before purchasing.
Cons:
Themes are paid, which is not actually a con, just a weird choice for a paid feature.
Download Calc 2M from the App Store (free)
What About Calculator Apps for iPhone?
​​iPhone users are fortunate to have an official calculator application, so there is no need for a third-party app. If you require more than basic arithmetic, you can unlock the scientific calculator on your iPhone to use for exponential, logarithmic, and trigonometric functions. Follow these two simple steps to do so:
Disable the Portrait Orientation Lock.
Rotate your phone horizontally.
If you still want another calculator app, install any application mentioned in this article. Each one of them works on both iPad and iPhone.
Block Ads in Any Calculator App
If you're Ok to pay for additional calculator functionality but don't want to pay for disabling ads, you can use AdLock. AdLock works with any calculator for iPad; no ads are guaranteed. Moreover, it not only removes ads from calculators but also clears most ads from other apps and games. When it comes to Safari, the ad-blocking functionality is available for free. Complete the following steps to install and set up our ad blocker:
Download and install AdLock for iOS.
Open Settings, find and tap Safari.
Tap Extensions and switch on all AdLock toggles.

Launch AdLock, and tap the Ad-free web surfing toggle to enable ad-blocking.
Tap the Premium toggle and choose a $12 yearly or $3,49 monthly plan. You'll get a 7-day trial, and if you don't like the work of AdLock, you'll receive your money back, no questions asked.
If AdLock misses any ads, please contact us by emailing support@adlock.com, and we will solve the issue and find a way to thank you.
Conclusion
We hope our article helped you to choose the most suitable calculator for iPad without ads. As you can notice, there are plenty of options with various functionality. And even if advertising manages to slip into your app, install AdLock, and that won't happen again.
Frequently Asked Questions
Are calculator apps for iPad safe?
Depends. All apps from this article are completely safe to use.
Are there any free calculator apps for iPad?
Yes, there are — for example, Desmos Graphic Calculator. You can find more examples in this article. Scroll up and choose the best calculator for iPad without ads.
Is there an official calculator app for iPad?
No, there is still no official calculator app for iPad, and we doubt there will ever be one.
Clean up adverts with AdLock
Do you like this post? Share it!
Do you like this post? Share it!