How to Remove AdChoices Ads
Put an end to Adchoices ads
Do you feel attacked by more ads than usual? This can be a sign of AdChoices on your device. But fear nothing, as AdChoices is not a dangerous malware, even though it may indeed worsen your web surfing experience by supplying massive amounts of ads and unskippable video commercials. Moreover, AdChoices can be removed from your PC or mobile, and that's exactly what we would like to share with you now. So how can you stop AdChoices?
Do you feel attacked by more ads than usual? This can be a sign of AdChoices on your device. But fear nothing, as AdChoices is not a dangerous malware, even though it may indeed worsen your web surfing experience by supplying massive amounts of ads and unskippable video commercials. Moreover, AdChoices can be removed from your PC or mobile, and that's exactly what we would like to share with you now. So how can you stop AdChoices?
What are AdChoices Ads
AdChoices is not just a firm or a product. It is the program for interest-based advertising that works through web cookies, search history, and browsing record processing. The main purpose of AdChoices is to tailor online ads to the users' interests, as well as to provide them with transparent information about the criteria for such ads matching. If this is not your first day on the Internet, then you've seen AdChoices ads already — think of the little blue arrow at the corner of the ad placeholders, that's their logo. Simply clicking this blue icon is the designed way for you to find out why you see this ad.
Is it Malware or Virus?
Relax, AdChoices is not a virus or malware. It is designed to be helpful not only to the advertisers that can better target their online marketing campaigns but also to the users — by providing them with utmost helpful and non-intrusive ad content. You can as well turn off AdChoices, although it doesn't mean that you won't see ads anymore. They would just not use your data for interest-based personalization, therefore, you would see more random ads, including depersonalized promoted posts. But is there a way to disable AdChoices and all their ads altogether?
Read also: YT5s virus and how to prevent it
How to Get Rid of AdChoices Using AdLock
AdChoices is quite a sophisticated program that can go around different obstacles on its way to serving ads. But even this is not enough to stand against a good-quality ad blocker, such as AdLock. Equipped with the best-in-class set of filters, AdLock proved itself as a perfect ad blocking solution for both PC and mobile devices. And not just for AdChoices but also any other online advertising provider.
AdLock works on the system-wide level of your device creating a protected and stable connection to the servers that filter online content for you and don't leave any trace of your personal information in the public access. With this lightweight but powerful tool, you can forget about the flashy banners, autoplay video ads, and other unpleasant elements on the web pages you are viewing. Why would you ask AdChoices about reasons to show you the ad when you don't see any ads at all? It's that simple. And now let's see how you can set it up.
How to Get Rid of AdChoices on Android
The first step to put an end to the countless personalized AdChoices ads that distract you from doing your business is to download and install AdLock. Follow the installation instructions on your mobile device, open the app, and now you are just a couple of simple steps away from the ad-free experience.
Check for updates

: you can do it in the AdLock app by tapping the overflow menu ("⋮" at the top right corner). Confirm by tapping "UPDATE ALL";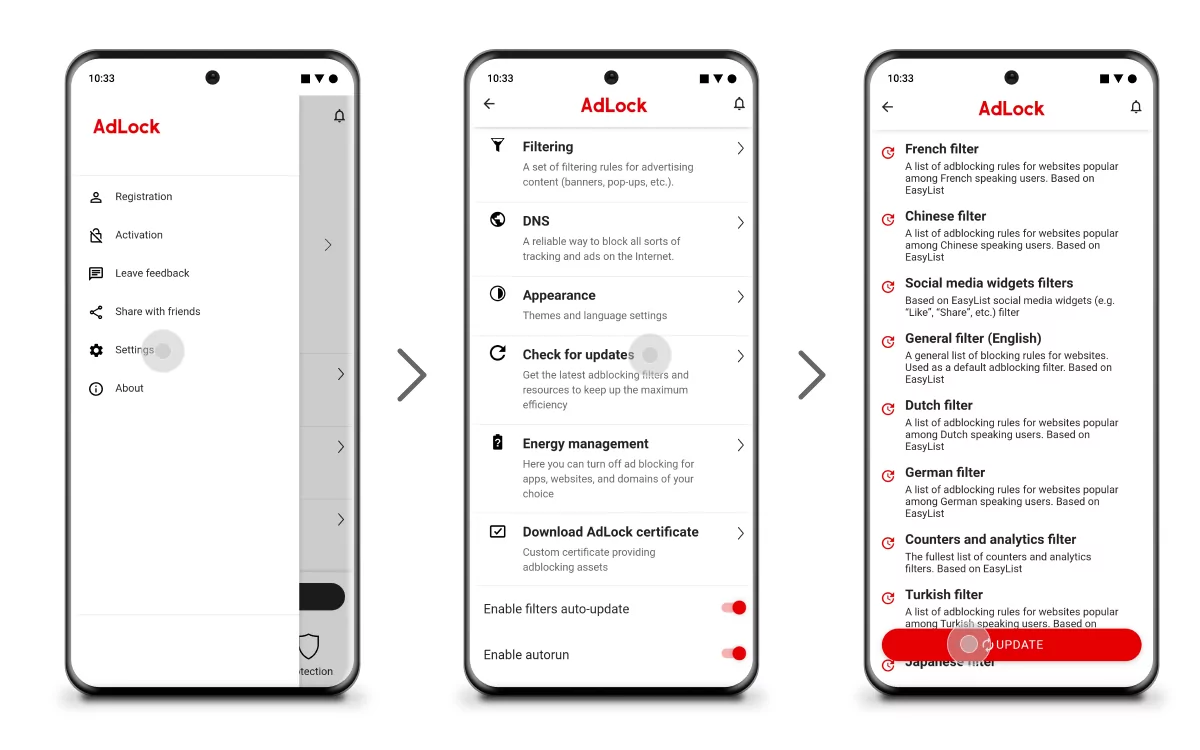 Enable http filtering

: this can be done in the "AdLocker" tab of your app. Tap OK to confirm, set a graphic key to verify your identity (this is kept safe and helps you to easier manage your future actions). Remember, AdLock doesn't collect, use, or send data outside your device. http filtering just helps to better block AdChoices and other ads on the websites using a secure connection.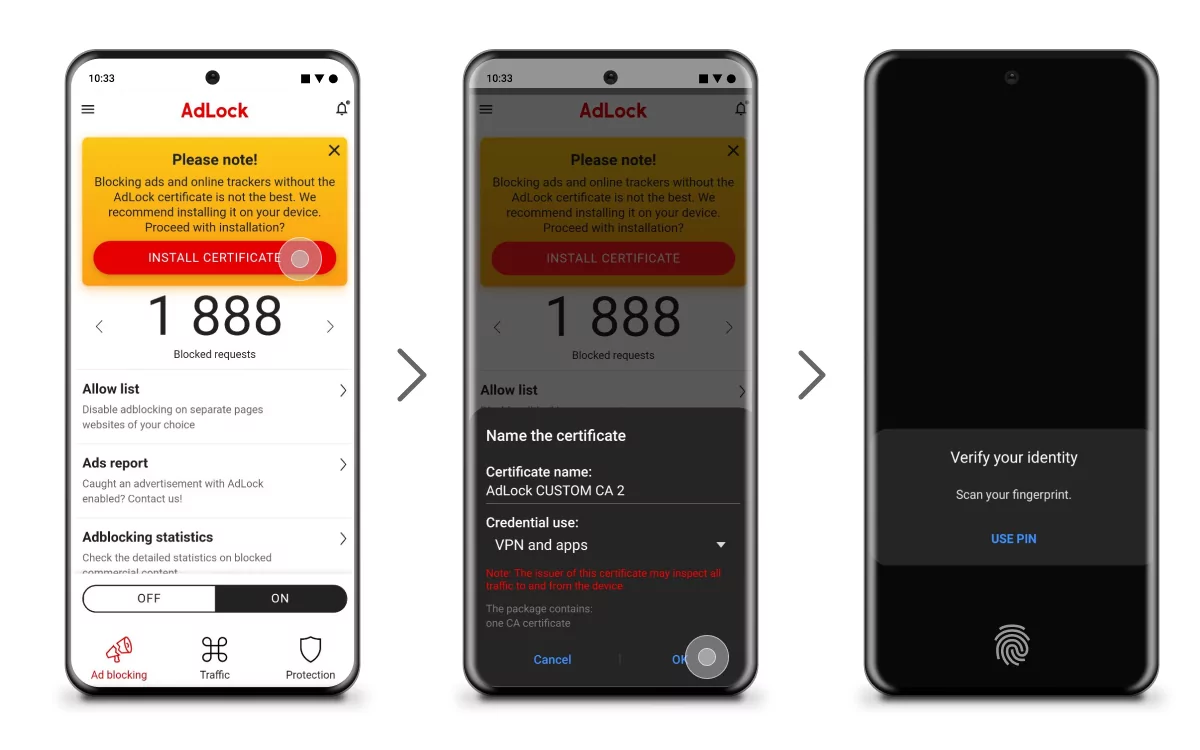 That's it! Try it out straight away with any website where you used to see the AdChoices banners and see how they all magically disappeared once AdLock was installed. That's how easily you can Adchoices opt-out.
Stop AdChoices
on Samsung Phone
Many might call Samsung the best brand for smartphones and tablets but that doesn't make any difference in our approach for removing AdChoices adverts. Regardless of whether you are using Samsung Galaxy S21 or some budget model, simply follow these workaround steps:
Open your

Ads Settings

;

Use the toggle to switch Ads Personalization

off

;

Confirm by tapping Turn Off in the

Turn off Ads Personalization?

window

;

Select the option

Opt-Out of More Ads

;

You will be redirected to the AdChoices page. First, tap

Continue

;

Finally, choose the option

Opt-Out Of All.
This method should work on all Samsung tablets and smartphones. Of course, it is not a guarantee that you will see fewer ads, as they would just stop using your data for personalization. The only way to forget about AdChoices adverts forever is to use AdLock's ad-blocking feature.
Read Also: How to stop ads on Samsung
How to
Block AdChoices
in Browsers on Your PC
Some users report that AdChoices ads are still being shown to them, although they have installed an adblocker. This may be a sign of the obsolete AdChoices files remaining in their web browser, and there is a good reason to clean up this mess using the browser settings. Such a treasure hunt can get tricky though, as AdChoices is notorious for its ability to disguise under other names and designs. So let's see what steps you should take to locate AdChoices in your browser, especially when a simple name search didn't bring any results.
AdChoices Removal From Google Chrome

Not only do millions of users choose Google Chrome for its massive extensions library, but also AdChoices which loves hiding there. So let's see how to remove Adchoices from Chrome in a few easy steps:
Uninstall unknown extensions.
Go to your Chrome Settings ("⋮" icon in the top right corner), select More Tools in the drop-down list, and select Extensions. Now, in the list of all browser add-ons search for AdChoices or any other one that you don't recognize or feel suspicious of. Once found, click Remove without hesitation.
Manage search engines.
Navigate to the Chrome settings and find the Search engine box. Now click "Manage Search Engines" and see what's in the list. In case you were able to find a suspicious search engine that you didn't install yourself, simply delete it and set up another engine of your choice.
Reset your Chrome.
Scroll down in your Chrome settings, open Advanced and find a "Reset" button at the bottom. Use the option to "Restore settings to their original defaults" and confirm by clicking "Reset Settings" in a pop-up window.

That's it, AdChoices in Google Chrome won't bother you anymore.
Hint: Chrome add-ons can be helpful when fighting with all other types of online ads. So if you're sick of googling (ironically)
how to stop pop-ups in Google Chrome
then definitely check out our blog post.
AdChoices Removal From Mozilla Firefox

There are a couple of useful steps to take if you want to remove AdChoices from Firefox:
Review your add-ons.
Open your Firefox Menu in the top right corner and select Add-ons. Alternatively, you can use a keyboard shortcut Ctrl+Shift+A. Find the Extensions tab and go through the list of everything installed. If anything suspicious was found, go ahead and remove it.
Refresh your Firefox.
Using this option you can restore the original settings of your web browser. Open the Menu, proceed to Help, and click the "Troubleshooting Information" button. This would open up the grey box in the top right corner where you would have to click "Refresh Firefox" and confirm your action to make sure no traces of AdChoices have been left.
Hint: Firefox is an awesome browser but the intrusive online ads and pop-ups can make it unusable. Check out our special blog post
Block ads in Firefox
to find out how to make your Firefox truly ad-free.
AdChoices Removal From Opera

Opera has plenty of options for the most advanced users. On the other hand, they can become a hiding spot for the AdChoices files so let's start our search now:
Clean up your settings.
Click the red "O" icon in the top left corner of your Opera and go to Settings. Scroll down the list and find "Search engine". In this menu, you would have to review the third-party search engines installed and remove the suspicious ones when found. Then, find the "On startup" box in your Settings and see whether some shady page appears in the list. Remove it when necessary.
Review your extensions.
Click the red "O" and find Extensions or just use the keyboard shortcut Ctrl+Shift+E to open this menu directly. Look at the list of all installed add-ons and remove those that you consider suspicious.
Hint: Opera's built-in ad blocker is not always able to cope with the annoying adverts. Refer to our comprehensive guide
How to remove pop-up ads from Opera
to find better solutions.
AdChoices Removal From Safari


Your Mac may be bulletproof against viruses but your Safari isn't, especially when it comes to the AdChoices invasion. Here's how you can remove AdChoices from iPhone, iPad, or Mac Safari:
Check the extensions.
Open the settings by clicking Safari in the top left corner of your screen and select the Safari Extensions option. Review the list of all add-ons your Safari has and remove those that you don't remember yourself installing.
Reset Safari to default.
Open the settings by clicking Safari in the top left corner of your screen and find Reset Safari in the drop-down list. Confirm your action to bring your Safari back to its original state.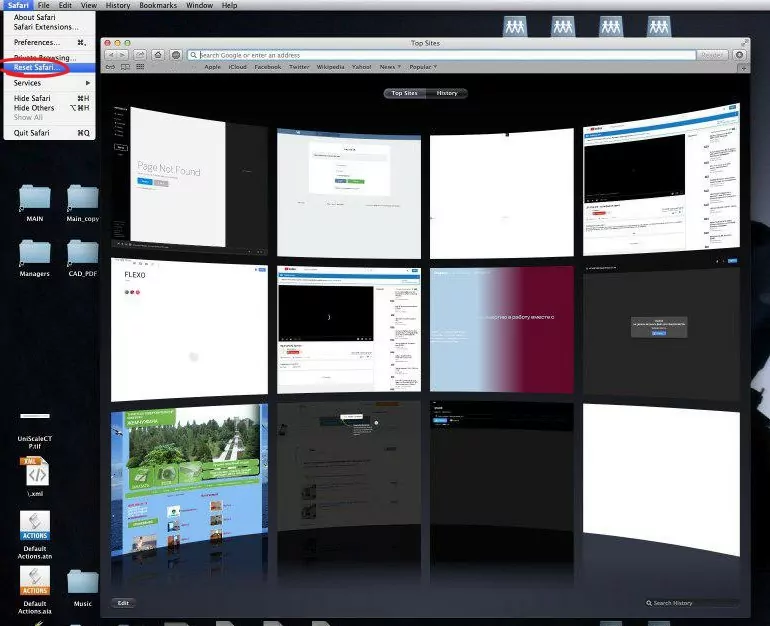 AdChoices Removal From Microsoft Edge

Microsoft Edge might not be the most sophisticated browser in the world but it's for sure a very straightforward one. There's just one thing to check to make sure no AdChoices settings were deployed:
Click the "

⋮

" at the top right corner of your Edge and go to

Settings

;

Find the option to

"

Clear browsing data

",

then

"

Choose what to clear

", tick all the boxes, and confirm by clicking

Clear. Restart your PC for the changes to take effect.
You can also completely block ads in Microsoft Edge, read more about this in our other guide.
How to
Remove AdChoices
on Desktop & Laptop
AdChoices can hide pretty well in the system folders on a computer. Here's a couple of pieces of advice on how to detect and delete them on both most popular operating systems.
Guide for AdChoices Removal From Windows
Windows 10:
Use a shortcut

Win+I

or right-click the

Start

button and select

Settings;
Go to the Apps section and review the full list of the apps you've installed. If you found anything related to AdChoices, apps that you don't recognize, or simply anything suspicious, uninstall it.
On the earlier Windows versions (XP, Windows 7, 8, or Vista) it's done this way:
Use a shortcut

Win+X

or right-click the

Start

button and select

Control Panel

;

Navigate to

Programs

and choose to

Uninstall a program

. Again, if you found anything suspicious, uninstall it.
This check is a must-do for any user having troubles with AdChoices but it's not a guarantee that adware can be found in the list. Alternatively, you can download AdLock for free and install it on your Windows device to efficiently remove all possible types of commercials from your view without an effort. AdLock will do everything for you, so just minimize it in the tray, sit back, relax, and enjoy ad-free Internet.
AdChoices Removal From MacOS
The Mac system is well-protected against viruses and Trojans but often it doesn't react to the legitimate, but intrusive adware. That's why we want to brush up on the list of your apps first:
In the top left corner of your screen click

Go

, then select

Applications in the drop-down list;

In the list of all apps find those that seem shady to you. All the elements related to AdChoices or are unknown to you can be

Moved to Trash

.
Conclusion
Now it's time, to sum up all the hints and know-how that we shared in this comprehensive guide. In short, there are four things everyone should do to finally forget about the tiresome AdChoices:
Uninstall all suspicious programs
Often we let adware in by simply surfing the web, downloading other useful programs, or even sharing files. AdChoices is not a virus so it won't be detected by your protection software either. And, although it won't infect your machine, AdChoices will be collecting the data for ads personalization and supplying those ads as long as it is installed. That's why it's so important to review the list of your programs, detect suspicious ones, and remove them.
Uninstall extensions from the browser
AdChoices doesn't even need to be stored in your hard drive for doing its business — a web browser is already enough. Check the list of your browser add-ons and try to detect a source of intrusively disposed scripts. You can always delete the extension but when it keeps appearing, reset your browser to default settings.
Disable pop-up ads in browser settings
It's not rare that users themselves allow AdChoices pop-ups to appear during their browser sessions. Luckily, all the modern browsers have a built-in setting to disable the pop-ups, you just have to turn it on.
Scan your device with an anti-malware software
Anti-malware software can also come in handy when detecting the requests sent from your device to some third-party server. The requests from AdChoices can be recognized and blocked in a split-second, and you will be warned about the next attempts from the app when it loads the advertising data. Run a deep scan and delete all the unwanted elements, that's the way to go.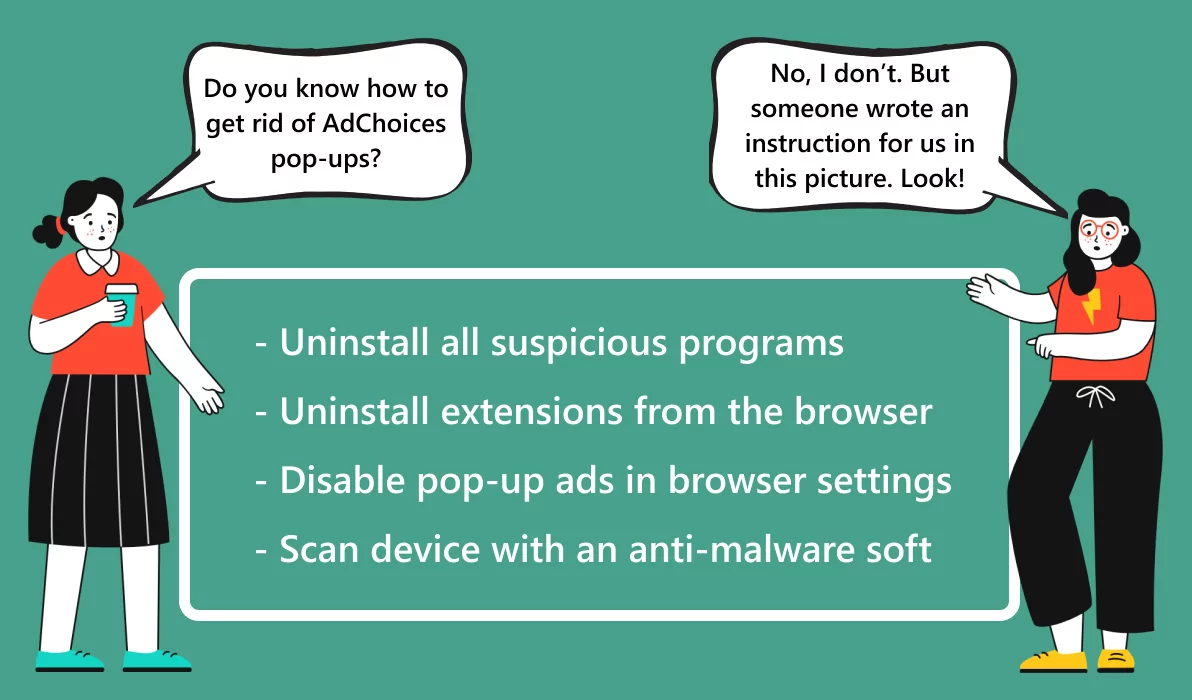 AdChoices is known for its outstanding ability to survive even the most thorough checks. So no surprise, if after all the above-mentioned steps some bits of AdChoices code are remaining in your system. Therefore, it is recommended that you perform regular scans using credible anti-malware software.
AdLock is not an anti-virus but it can still help you when dealing with AdChoices. It will keep you away from suspicious sites and won't let new adware settle on your device, as well as make your web browsing much more pleasant and not disturbed by irritating adverts. Think of your safety beforehand and prevent an ad invasion rather than dealing with its consequences. AdLock makes it easy for you.
Put an end to Adchoices ads
FAQ
Who runs AdChoices?
AdChoices is not a private enterprise. It is a self-regulatory program operated by the Digital Advertising Alliance (DAA). Founded in the US back in 2009, DAA became a joint effort of the leading national advertising bodies towards better regulation of the online ad market, transparency, and customer protection. Altogether these organizations include several hundreds of the most influential American companies as their members, and that is just in the US alone.
AdChoices has its Canadian and European versions, operated by similar joint consortiums serving as an intermediate between the local markets and national governments. The most powerful digital companies and online advertising providers, such as Google Inc, Yahoo!,, and Facebook are on board too, of course. Although the DAA stood at the helm when creating AdChoices, the organizational model of this program is rather decentralized and enables individual companies to be responsible for their customer relationships. That's why, when clicking the AdChoices icon on the ad banner online, you will be redirected to the respective company site, and not to the DAA itself.
How do I remove AdChoices from Windows 7?
The procedure of removing AdChoices from Windows 7 computers is quite simple and similar to the newest OS versions. You just have to make sure to delete not only the AdChoices app itself but also the remaining program files and folders. Let's get down with the basics and uninstall the AdChoices app from your PC:
Click Start;
Go to Control Panel;
Select Uninstall a Program;
Locate AdChoices in the list and click Uninstall.
The next step would be to make sure that no AdChoices files remain in the system. Search for folder C:Program Files\AdChoices in your File Explorer, as well as try to find and delete the AdChoices.dll file. Don't hesitate to delete both, when located, as this would not affect the functionality of your PC and guarantee that there's no AdChoices cache left.
Finally, you have to double-check if AdChoices wasn't installed directly in your web browser as an extension. Regardless of the web browser provider you are using (Chrome, Firefox, Opera, or Edge), just open the browser settings and go to the Extensions tab. Delete everything related to AdChoices from the list of your add-ons and restart the PC.
How to remove AdChoices from Outlook
You may see different ads every time you go to check your emails but what's common for all of them is the blue AdChoices icon hanging at the corner. No wonder, since AdChoices is also in charge of the ad placeholders in your Outlook inbox. The functionality of it consists of the options available to you once you click the icon: you can choose not to see some particular commercial, set up the categories of ads that you may be interested in, as well as to learn why this or that ad is shown to you. There's no option to remove the placeholder itself though because your free Outlook plan is financed through the advertising revenue.
The way to get rid of that annoying ad banner covering half of your email workspace proposed by Microsoft is to purchase the Microsoft 365 plan. An investment of $69.99 / year for a Personal Plan for 1 person or $99.99 / year for a family of up to 6 people lets you enjoy the full functionality of Outlook and other Microsoft apps without any ads, but with better security and more storage space.
But you don't have to pay so much for another expensive digital subscription straight away. First, consider getting yourself a quality ad blocker that would be able to deal with the ads in your applications, including Outlook: AdLock. This powerful tool works on the system level of your PC demolishing all the ad placeholders in your apps and web browsers. With AdLock you don't need to take any manual action because its work is automated, to the point of adjusting your email workspace to the full width of your screen as if there had never been any ads.
Put an end to Adchoices ads
Do you like this post? Share it!
Do you like this post? Share it!